Cuetos, Galiana, Valladares and Arcos bring life to the poetry that is most intimately related with wine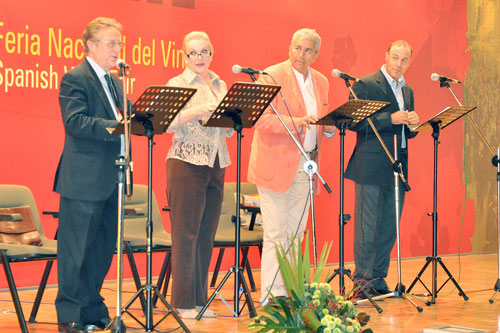 The Professor of Spanish Literature Antonio Rey Hazas has prepared a selection of texts that have been heard at FENAVIN today
06.05.2009 |
The relationship between wine and life has been the focus of the poetic recital in which the magnificent voices of Concha Cuetos, Manuel Galiana, Paco Valladares and José María Arcos have been in charge of shaping this intimate union of texts selected by the Professor of Spanish Literature Antonio Rey Hazas.
Rey Hazas has explained that the concept of wine, its characteristics and its current consideration is radically different to what it was in the 16th and 17th Centuries, when Spain was an Empire and wine was a fundamental part of the diet. At that time, the Professor assures, people only had meat, bread and wine to eat, "and since meat was very expensive...". Thus, the infantry regiments of Flanders had a minimum of one liter of wine a day assigned to each man, and in the cellars the fleets carried double the amount of wine than they did of water, because water would spoil, thus it was only used to clean and wine was used to drink.
"It was an enthralling world, completely different from ours" Antonio Rey points out in order to also understand the scope and importance of these wines in literature, "which is dead script, coming back to life in the voice of excellent and magnificent actors".
More than a hundred people have come together to enjoy the performance, proof of the excellence of the texts and fabulous capacity of the veteran actors, who have left their imprint in the interpretation of the poems and in the heart of the audience.
Quevedo, Gracián, El Lazarillo, Lope and his Galán de la Membrilla, Tirso de Molina, Cervantes or Góngora, amongst others, have again offered up their perception of wine in a series of texts in which it has also been possible to enjoy poems by Neruda, Machado, Diego Jesús Jiménez, Antonio Gamoneda or Fernando Quiñones, representing more current texts, which in the opinion of the professor, are closer to the new generations. Concha closed the recital with her declamation of José Hierro's poem "El vino de crianza".
The audience put the finishing touch to the performance with a standing ovation in recognition of the professionalism of the four renowned actors who, in an interval, recommended consuming "a small glass of wine" with meals as "it helps us to enjoy better health", acknowledged both Galiana and Valladares.