Castilla-La Mancha wine has its niche in other local Spanish markets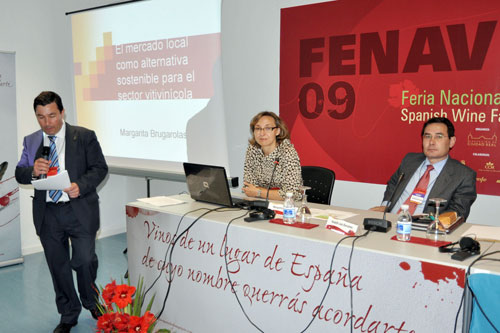 Wine marketing has also had its place at the sessions hosted by the UCLM at FENAVIN, in this case with the objective of offering the winemakers the latest investigations and scientific knowledge
06.05.2009 |
Wine marketing has been the star of one of the sessions of the innovative workshop that the UCLM is hosting at FENAVIN 2009 under the common title of "Innovation as a strategy of differentiation: from biotechnology to commercialization of wine". This exposition has in turn focused on two themes: "The local market as a sustainable alternative for the wine growing sector" and "The preferences of wine consumers".
The first part has been developed by Doctor Margarita Brugarolas Mollá-Bauzá, Professor at the University Miguel Hernández, who has carried out a study in the Community of Valencia, in which she has observed that the acceptance of wines from this region by the local consumers is positive, as their motivations, such as contributing to the wealth of the region and the concern for local products, has a positive effect on their perception.
"What we are in search of is that producers will be able to obtain greater business by highlighting the local nature of the product. This is what I call consumer wine-centrism, which represents their preference for local production", Doctor Brugarolas asserted.
On his part Rodolfo Luis Bernabeu Cañete, Professor of the UCLM, covered the question of "The preferences of wine consumers" in-depth, basing his chat on different parameters, such as price, origin, type and production. According to the conclusions he has obtained from his study, it can be deduced that Castilla-La Mancha wines can have a niche in the Madrid market, because in Madrid they do not actually prefer the local wine. Bernabeu has also informed that if conventional production is compared with organic production, more and more consumers are tending towards the latter.
The UCLM has a stand set-up at the trade fair that is aimed at promoting its research groups, the results of its I+D lines and the transfer of their scientific-technological offer. It also organizes bilateral meetings between researchers and entrepreneurs in order to articulate I+D and innovation projects or to transfer technology.