The Sommelier Charlie Arturaola offers a commented tasting session on Castilla-La Mancha red wines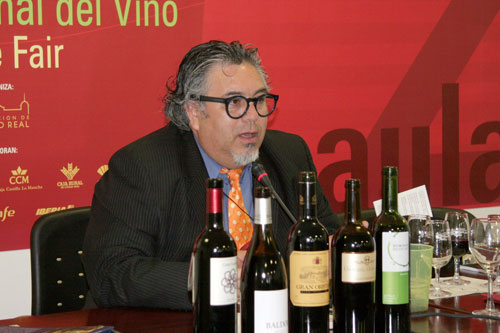 Castilla-La Mancha wines are absolutely ready to compete on the international market
06.05.2009 |
Lovers of the culture of wine have had a wonderful chance to participate in a new commented tasting session led by Charlie Arturaola, recognized Senior Sommelier in the United States and Wine Consultant, who has presented some of Castilla-La Mancha's most representative wines. Not in vain his intervention "Why Castilla-La Mancha should compete in the global market with these Tintos?" has such a revealing title, as in the opinion of this expert, the wines from this region are of an extraordinary quality, which in nothing at all have to envy other famed international wines.
The tasting session has been organized by the IPEX (Institute for Foreign Promotion of Castilla-La Mancha), and in like manner to other sessions that have taken place during the National Trade Fair on Wine, the idea has been to make the level of quality and the diversity of the elaborations that are currently being made in the Castellano-Manchego region known to all.
The session has taken place in English, with simultaneous translation, and with Charlie Arturaola's eloquence being worthy of mention, who at all times has proven the profound knowledge he has of the wine situation of Castilla-La Mancha, attempting to reflect the modern and competitive image of Castilla-La Mancha's current wines, which are more than ready for foreign commercialization.
For Arturaola, the wines of Castilla-La Mancha are of a great quality, displaying the viniculture wealth of Castilla-La Mancha, and they are perfectly competitive in a market that is becoming increasingly more global.