Enologist Ana Martín: "Wine must produce pleasure and we should talk about it while we drink it"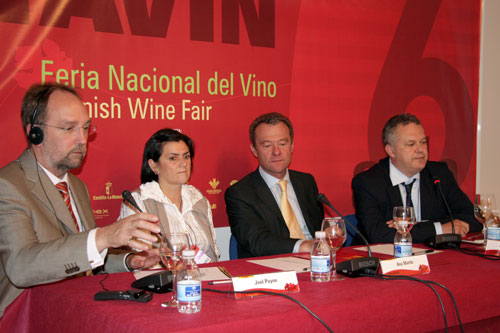 She has participated at the conference "Wine: Technique and Communication", along with Joël B. Payne, President of the FIJEV and the Enologist Paul Pontallier
06.05.2009 |
The International Federation of Wine Journalists and Writers (FIJEV) has hosted a conference-chat on "Wine: Technique and Communication", in which Paul Pontallier, Enologist for Château Margaux has participated; along with Ana Martín, Spanish flying winemaker and Joël B. Payne, President of the FIJEV, who have all set-out their experiences on how they elaborate their wines and how they communicate them, as well as the market trends and social tastes.
Ana Martín, who has been working in the world of wine for 25 years, declared that "the situation of the enologist in the eighties had nothing to do with today's". Now enologists are considered as stars that appear on the cover of magazines", she affirmed. "The situation used to be much tougher before, because we had to work in small wineries with difficult projects".
The enologist has confessed that she does not find communication difficult and that she does this with a passion, believing that "people want to know what is behind each wine". In this sense, she commented that she has always understood her work as an enologist "as explaining what I do". In like manner she has underlined that "wine must produce pleasure and we should talk about it while we drink it". She also stressed that "consumers should have enough information about the wine they are drinking so that they can really appreciate it".
Ana Martín Onzain, despite her youth, is one of the most seasoned and experienced enologists in our country. She is related with names such as Guitián, Casa Gualda, Terras Gauda, Itsasmendi or Traslanzas have also turned her into one of the most prestigious enologists. She has imparted a great number of courses, both technical and covering tasting sessions, having also participated in numerous tasting session committees, research projects and she has even held the position of Commercial Director in more than one winery.
On his part, Paul Pontallier has explained his experience as an enologist, profession that he has been exercising for many years now. The French enologist has pointed out that "the culture of wine has an extraordinary importance". In answer to the question made by the journalist Payne about feeling pressured because he is the enologist for Château Margaux, he asserted that "it is much easier to make a wine in Château Margaux than it is anywhere else in the world, because a series of privileged conditions come together (natural, human, cultural and technical)".
He also commented that "for four centuries the idea has always been to elaborate wines of excellence. Thus the technique has evolved and the base is rock solid. He also highlighted that "when elaborating the wine, each and every detail is important".
The current President of FIJEV, who has acted more like a journalist than like a speaker, has declared that "25 years ago the only important thing was to make the wine. Currently the idea is to differentiate it from others, communicate this and have an audience that listens".