Prestigious enologists and winemakers debate on the evolution of Spanish wine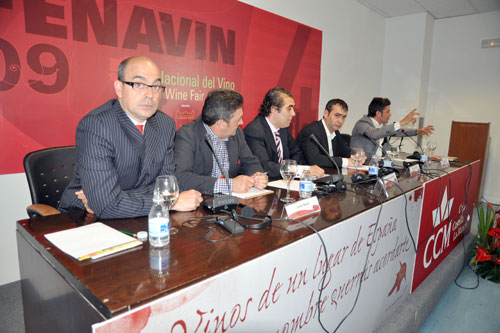 Javier Ausás, Álvaro Palacios, Carlos San Pedro and Luis Miguel Martín have participated in the round table that has been coordinated by the wine writer Andrés Sánchez Magro
06.05.2009 |
The wine and gastronomy writer Andrés Sánchez Magro has coordinated the round table "Classics and Moderns. The change in Spanish wine", in which Javier Ausás, enologist for Vega Sicilia has participated; along with the winemakers Álvaro Palacios and Carlos San Pedro, and Luis Miguel Martín, sommelier and National Gastronomy Award laureate.
Álvaro Palacios, innovative winemaker who supplied Woody Allen with wine during the shooting of "Vicky, Cristina, Barcelona" and one of the highest international representatives of rupturism in the world of wine, has confessed that he has always been "tamed by the grandeur of the Spanish wine heritage".
He commented that for 20 years now he has been trying to innovate the classic principles of ancient vineyards and "enjoy the autochthonous varieties of each region". He also specified that "the historical prestige of the viniculture heritage must be respected and balanced-out with what is authentic and genuine".
On his part, Carlos San Pedro, representative of the fusion between the classic and the renovated, has pointed out that "the great revolution of Spanish wines has not advanced because we are returning to what we already knew". The winemaker has explained that powerful and structured wines are being elaborated "in search of the objective that over time they will give us pleasure". He also commented that as a winemaker he tries to make modern wines "with a different treatment for each type of soil".
Luis Miguel Martín has explained that when he started working as a sommelier he used to know the wine list off by heart. "That would be impossible now because there are more than 10,000 brands of wine in Spain". "Wine has evolved, given that cleaner wines are being elaborated. We have evolved in the ageing, in enology", he underscored.
The National Gastronomy Award laureate has also pointed out that "we can now select the wines for each one of the restaurants that make different types of foods". "Properly served, both modern and classic wines are good, yet they are all bad if they are not served correctly", he blurted out.
Finally, Javier Ausás, enologist for Vega Sicilia, one of this country's most classic wineries, has stressed that the trajectory of his winery "has been one of respect towards ourselves". He also pointed out that "we evolve in our style and we do not "prostitute" our wines trying to follow the trends that are generated at each moment".
The enologist for Vega Sicilia has underlined that they elaborate wines that are "more elegant, drinkable and as pleasurable as possible". He finally commented that the maxim of his winery's management is "respect for diversity, elaboration of clean and expressive wines that give pleasure, in order to make our viticultural heritage an incomparable heritage".