Young people place wine in a position that is sufficiently elitist as to detach them from it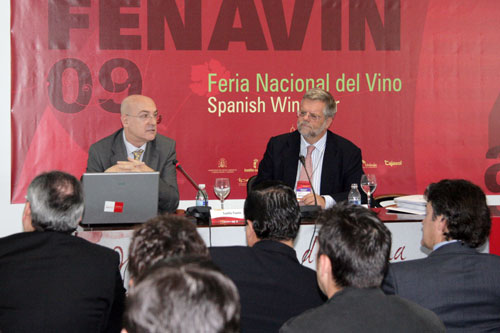 Teófilo Fiunte and Rafael del Rey
This has been one of the conclusions of the study 'Youth and Wine' that was commissioned by the OEMV and presented this Tuesday morning at FENAVIN
06.05.2009 |
FENAVIN 2009 has been the stage chosen by the Spanish Wine Market Observatory (OEMV) to present the study 'Wine consumer habits among young people', made by the company Synovate. The Director General of the OEMV, Rafael del Rey, after a brief introduction about the activity and scopes of action of the Foundation, has been in charge of presenting the work, made in populations with more than 30,000 inhabitants of the Peninsula and Balearic Islands, over a total of 1300 youths aged between 18 and 36, interviewed from the dates of November 3rd to the 25th of the past year.
Then Teófilo Fiunte, Representative of the market research company Synovate has reeled off the main conclusions of the study, which has considered the study made by Synovate for the Spanish Wine Federation (FEV) in the year 2005 as a precedent. He has fundamentally insisted that wine is a product with which young people do not identify themselves because they consider it an expensive beverage, for older people, for experts, ideal for celebrations or to impress. "Young people do not consume wine because they feel that it is far-removed from their world, thus it is not a problem of quality but of proximity. They place wine in a position that is sufficiently elitist as to detach them from it", Fiunte insisted.
According to the obtained data, 8% of the young people interviewed consume wine on a regular basis, a percentage that is reduced to 5.5% if we consider the answers of urban youths aged 18 to 25 and it then climbs to 10% if the reference corresponds to youths aged 26 to 35. The study explains this difference over the basis that wine holds a secondary position in the life of young people, with a certain social frame, such as family meals, special celebrations, romantic dates, etc., therefore, consumption of wine amongst young people increases when they reach a certain personal and professional status.
Thus due to this it is not strange to find that 45% of those interviewed acknowledged starting drinking wine before they were of age, fundamentally in at home or during family celebrations. Also, young people value the healthy characteristics of wine and they do not consider it an adequate drink to get drunk on, as in fact only on 8% of occasions would they have gotten drunk with this product.
In that concerning types of wines, red wine is the most highly consumed and the increase of rosé is to be noted, which has gone from 7% in the year 2005 to 11% in 2008, influenced by feminine consumption.
Finally, amongst the incentives that young people claim, 32% of those interviewed would consume more wine with a fruity taste, while 14% would consume low-alcohol wines and 10% low-calorie wines.