"More than 20% of the wine consumed in Brazil is from Italy, and why is only 3% from Spain?"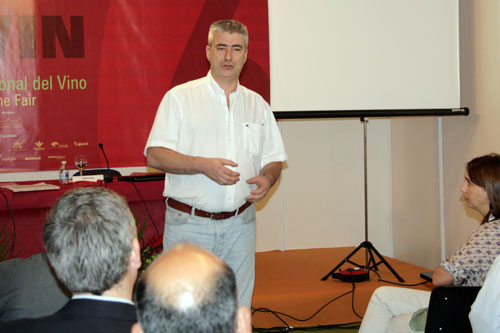 Dario Taibo, Director of the Sociedade Da Mesa, subsidiary of Vino Selección has spoken at Fenavin on how to be successful on the Brazilian market
06.05.2009 |
This Wednesday, May 6th in the Ciudad Real Trade Fair Pavilion, at FENAVIN 2009, the Director of Sociedade Da Mesa, Brazilian subsidiary of the Spanish company Vino Selección, Dario Taibo has imparted a chat on the "Positioning and image of Spanish wine in Brazil". In summary Taibo has invited Spanish winemakers to become more aggressive on a commercial basis in the international markets.
During the lecture Taibo talked about the wine market in Brazil, about the general lines referring to size, as well as on the perspectives and main competitors, which according to the Brazilian are in fact the Spaniards. He also made a brief tour of the evolution and presence of Spanish wine in Brazil and on the exports of the last few years, which in the opinion of Taibo represent an evolution, "a small one, but gaining in importance because we can and should speed it up". "It is increasing, yet very slowly. This slowness cannot be justified if we take into consideration that Spanish wine is now very competitive on the international market", he added.
For Taibo, "the Spanish producer has not really tried to sell in Brazil, and this despite the fantastic price-quality ratio that Spanish wines have". In turn he asked himself: "To travel to England one has to do the same thing as to travel to Brazil, we have to take a plane and that's it, the only difference is that the American country is a bit farther away, but even so it is curious that more than 20% of wine consumed in Brazil is from Italy and as far as I know, Italy is even farther away than Spain".
There is barely any type of image of Spanish wine in Brazil
The Director of Sociedade Da Mesa also talked about the image of Spanish wine and the perception that the Brazilian consumer has of our wines. "Spanish wine can be and should be made known. The image of Spanish wine in Brazil is non-existent; it has no image, neither a good one nor a bad one. It really is a pity that the easy origins in mouth for lovers of wine is still reduced to Rioja and Ribera", he comments.
He also explained the perspectives that Brazil offers as a market for the exhibitor wineries. He finally recommended what Spain and its wineries should do to make their wine known and to make it successful on the Brazilian market. For Taibo, "Spanish wineries are neither lacking in wine nor in price. Simply trying to sell it would be a good start". The Brazilian believes that "winemakers are not right about complaining about the lack of institutional aid from the Spanish authorities, because the ICEX is providing them with a fabulous platform and many facilities and they are the ones who are not profiting them".
In Brazil, 60% of wine that is consumed is sold in supermarkets; another 25% is sold through the HORECA channel (hotel and restaurant sector) and 12% through direct sales (catalogues, Internet, etc.). In as far as importing is concerned, Chile is the country that sells the most in Brazil, due to proximity and the tax advantages, followed by Argentina, while Italy places more than 20% of the wine that is consumed, "and then why is Spain only placing 3%? Taibo again asks himself, while in turn praising trade fairs such as FENAVIN to do business and that Spanish winemakers should finally realize "what's cooking in other latitudes and start wagering on markets such as Brazil".
The Sociedade da Mesa, apart from operating like a wine club, also directly imports a good part of the wines it distributes amongst its associates and clients. The club selects European and Latin American wine and it publishes a monthly newsletter. http://www.sociedadedamesa.com.br/informativos/,
Dario Taibo is also the Editor-in-Chief of the wine magazine Sociedade da Mesa, one of the magazines with the greatest press run in Brazil. He is a columnist and collaborator for diverse publications on wine, both Brazilian and international, and he is a habitual guest on juries for diverse international wine contests. He is the author of the book "Sobre vinos, hombres y el arte de beber" (On Wine, Men and the Art of Drinking)" and the Editor of the first Brazilian podcast on wines. He has organized courses for lovers of wine and for professional sommeliers.