Caja Rural has organized a tasting session for habitual consumers called "The Best Wine is the Wine I Like the Most"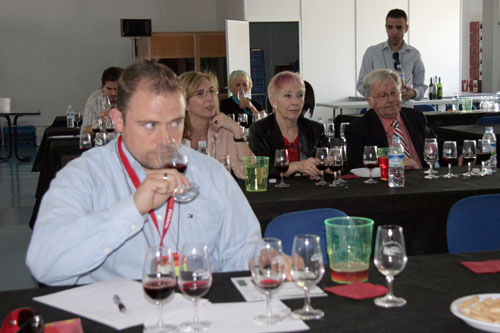 The results have been compared with those of the professional tasters to see where the coincidences are
06.05.2009 |
More than twenty lovers of wine have come together this morning at a blind tasting session organized by the Caja Rural. Under the title of "The Best Wine is the Wine I Like the Most", habitual consumers participated in a tasting session of five white wines and five red wines, evaluating each product according to their own criteria, without being influenced by brands or external opinions.
For María Teresa de Cuadra, both representative and the guide for this activity "the idea behind this tasting session is to provide the wineries with useful and contrasted information, because it is quite possible that the opinion of enologists that evaluate wines might not necessarily coincide with the opinion of the general public", who as it turns out is actually the final consumer of these products".
The wineries that are on display at Caja Rural's stand are the ones who have chosen the wines for this activity and what they want to obtain is a sort of market study carried out within the walls of FENAVIN 2009. In fact, a tasting session with these same wines was previously held with professional enologists.
The results from both tasting sessions will be compared throughout today and tomorrow the wines receiving the best scores in both tasting sessions will be awarded the prizes. In order to motivate participation, the Caja Rural will hold a draw amongst the participants for a prize of a one-night stay in one of Spain's state-run hotels.