The Wines of Alicante presented to the professionals of the sector at FENAVIN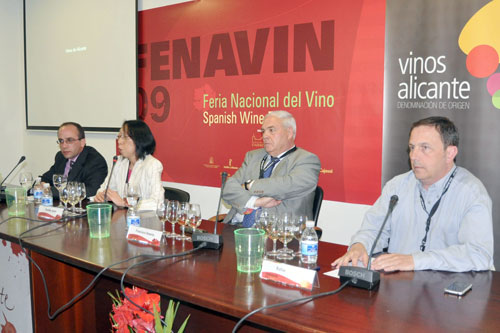 The Alicante Denomination of Origin Regulation Council has organized a tasting session of 10 of their most representative elaborations
05.05.2009 |
The wines of Alicante have two basic distinguishing marks, the Monastrell grape and their purely Mediterranean nature. However, these are not the only ones: there are also white wines based on Muscatel and the famous Fondillón, a wine that is internationally considered to be "a luxury".
The Alicante Denomination of Origin is 100% based in the province of its name and it counts with 14,500 Ha of vineyard. The production of its 54 wineries (17 of which are cooperatives) stands at about 40 million kilos of grape a year, mostly Monastrell and Muscatel, although Cabernet Sauvignon, Merlot, Pinot Noir, Petit Verdot, Tempranillo and Garnacha Tintorera, amongst the reds; and Macabeo, Chardonnay, Sauvignon Blanc and Verdil, amongst the white wines are also being cultivated. Approximately 40% of the vines are in trellis fashion, while the rest grow in traditional fashion in "marco real" under low vine training system. Of the latter 35% correspond to ancient Monastrell vines, many of them in ungrafted fashion.
The denomination of origin is divided into two sub-areas: Vinalopó in the interior of the province, in which red wines predominate and Marina, along the province's northern coastline, where the most common grape is Muscatel. Despite the differentiated climates, controlled irrigation is frequent in both one and the other, with a yield of about 9000 kilos per Ha for white grapes and 7500 for red grapes.
The tasting session has been headed by Francisco Amorós, President of the Denomination of Origin: Yosihiko Ayeki, Japanese wine expert who came to know the wines of Alicante by way of the Fondillón; Rafael Poveda, Enologist for Bodegas Salvador Poveda; and Juan Francisco Gallego, the Best Sommelier of Alicante and trainer of other sommeliers.
Ten wines have been tasted - three whites, one rosé, four red wines and a Fondillón - with different varieties, elaborations and crianzas, many of which have received awards in outstanding international contests and obtained high scores in the most prestigious guide books. All of them have surprised the tasters with their quality, balance and personality.