Espinosa: FENAVIN has positioned itself as a referent for the spanish wine sector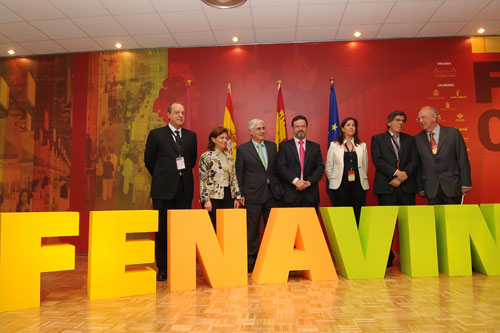 The Minister of the Rural Environment has inaugurated the National Trade Fair on Wine along with the Regional President and the President of the event
05.05.2009 |
"This trade fair has positioned itself as a referent for the Spanish wine sector and also for many worldwide purchasers and critics. This is certainly not strange given that Ciudad Real, through its own merits and traditionally, is a land of wines". It has been under these terms that the Minister of the Rural, Marine and Natural Environment, Elena Espinosa, has expressed herself while inaugurating this morning the fifth edition of FENAVIN along with the President of Castilla-La Mancha José María Barreda, the President and Director of the event, Nemesio de Lara and Manuel Juliá, respectively and the Mayor of Ciudad Real, Rosa Romero.
Espinosa, who has acknowledged the importance of the National Trade Fair on Wine, has put forward that FENAVIN 2009's figures have grown "significantly, consolidating the trade fair and demonstrating that the sector is advancing". Although she also said that the most important thing taking place at the fair are the commercial contacts that are made, leaving it quite clear that development of parallel activities is also important, activities covering "broad and diverse subjects", such as the "CMO, Denominations of Origin, consumer habits, wine marketing, relationship of wine with food and with literature, without forgetting wine tourism, strategies abroad and innovation as a strategy". Espinosa has congratulated the organization "because all these complementary activities are what really consolidate the trade fair, making it have this strategic value".
Espinosa has commented that Spain is the first country in the world in that pertaining to cultivation surface and the third producer of wine. She added that in 2008 an increase of 8% in value was recorded, and an 8.5% increase in export volume. "It is true that we find ourselves in a time of crisis, but it is also true that we are about to become the first exporter in volume of wine and we have already surpassed France", she declared.
In Espinosa's opinion this is possible because wine-growers and winemakers have restructured the vineyards, they have trained professionals, improved the wineries and the marketing and commercialization techniques. "And this is recognized abroad", she affirmed to then continue explaining that "The Times has published that Spain is the producer country that has changed the most and the best".
Espinosa reminded that the new Common Wine Market Organization includes measures that are more highly aimed at improving commercialization of production and income from the products. "I understand that the reform has been positive", she asserted before defending the position that we must look to the future with optimism. She considers that it is essential that the Spanish wine sector be prepared. In this sense she considers that "we have to work on promoting markets in third countries".
She likewise referred to the Wine 2010 Strategy Plan, through which "we have decided to become commercial leaders at a global level". Also, the recent creation of the Wine Observatory pursues increasing consumption in our country and abroad. "Some studies that have been made will be presented at this trade fair", she added.
On his part the President of FENAVIN and of the Provincial Government, Nemesio de Lara, started his intervention by thanking the institutions, bodies and entities that not only collaborate with their presence, "but with their money, because they are contributing to FENAVIN staying afloat".
"The wine sector is undergoing a bad moment, and this is both a structural problem and an immediate one, which joined together have given rise to the situation we have been suffering in the last few months. Exports and consumption are decreasing in an alarming way and this is not due to the crisis, but to the years-old decadent sequence", De Lara specified, then explaining that "agrarian income is also suffering", to which we have to add "that this year only 30% of wine has been sold".
During another moment of his speech he commented that FENAVIN is a trade fair "of business, by business and for business". "We are doing everything possible, considering each and every euro we spend, acting from our hearts and from our heads, even if we are not obligated, in a competitive sense, to celebrate events of these characteristics. However though, morally the situation does concern us, because we truly believe in this sector", he added.
De Lara also took advantage of the situation to tell the producers that they must produce what is being sold rather than sell what is being produced. He has asked that the producers unite in order to seriously commercialize and invest in exporting strategies. And of the hotel and restaurant sector, he has demanded that they lower the prices, "which are so often a deterrent".
He has also addressed the consumers, "in particular the young consumers, so that they will consider wine as a food product, in the strictest sense of the word, because it is healthy and pleasant to drink. And in Spain we have a varied and extensive range of qualities available, in both tastes and prices". "And addressing the Administrations and in particular the Minister, he said to them, let's take advantage of the transitory period of the CMO, lets urgently authorize regulatory market measures so that the wineries will not have to sell the products at prices that are below those of production", he pointed out.
On the other hand De Lara considers that it would be good "if between us all we can come up with a Spanish strategic plan for development of the wine sector, in a way that there will be room for all of us. Thus I am asking for unity from you, unity for promotion, for publicity, for aggressive marketing campaigns that must be developed and for the measures that must be brimful of professionalism. This is how we can help a sector that is very depressed and that as a politician concerns me very seriously, and this must take place from the bottom right to the top, starting with those planting the vines and right on up".
During his speech the President of the Government of Castilla-La Mancha, José María Barreda, has said that "we must drink wine in order to remember the momentous importance that it has for us". "The vine and the wine form part of the most ancient of cultures and Spain and Castilla-La Mancha are a fundamental part of the same", he added to then say, "The vine and life have a relationship that is indissolubly joined together". "In great measure in Castilla-La Mancha the vine is life, because the fruit of the vine gives much life to its people, apart from complying with a very important environmental function. Thus the reason why for us this is not merely another sector, but rather an absolutely strategic sector due to many considerations, first of which is the economic one", he sentenced.
For Barreda it is very important "that we be aware that the challenge of elaboration has been won, and now is the time to commercialize. Indeed that is the fundamental word". And he considers that "at a time of globalization that affects all sectors, we have to make a tremendous effort to place our wines both within our borders and abroad".
"We can now find wines in all latitudes and this complicates commercialization and forces us to become more competitive, but there is no doubt whatsoever that we are more than capable of achieving this if we propose to do it, because we are in fact even proving it to ourselves", Barreda points out, also considering that the fact that we have a culture that is deep-rooted in this crop is a very important aspect with regards to the new producer countries.
After requesting of the Ministry that they jointly analyze the regulator measures that must be adopted to correct the difficulties that exist, Barreda has underlined, in relationship with FENAVIN, "the wise decision is the one that is taken when something necessary must be done". "And this trade fair was necessary and so it has been and it has been a great decision. Its those things that sometimes happen, because after holding it in Ciudad Real every two years with the importance that it obviously has, we ask ourselves how on earth is it possible that we didn't do it before, especially considering how important and necessary this trade fair is", he said.
The President of Castilla-La Mancha has put the finishing touch to his speech by congratulating Nemesio de Lara "on this initiative, on the organization of this trade fair, because good wine is not only sold in the winery, showcases and platforms such as this one are needed".
The Mayor of Ciudad Real, Rosa Romero, has welcomed all those present, "in particular all the exhibitors and participants in this great National Trade Fair on Wine, who have come in from all over the national geography and from abroad". Romero has specified that "this is a consolidated trade fair, the trade fair par excellence and the most professional trade fair that is focused on the world, on culture and on the business of wine and this must be acknowledged publicly, right here and now". Thus she said "my most sincere congratulations to the organization and the organizers, who have surprised us by making it even bigger and more important, placing this land in the place that by right corresponds".
After commenting that the capital is a hospitable welcoming city with a fabulous quality of life, she has invited all those present to visit it "once the day's professional activity has concluded". "I hope and wish that FENAVIN 2009 will surpass the business figures and success it enjoyed in past editions, and as Mayor I will be very satisfied to continue collaborating with the Provincial Government of Ciudad Real", Romero concluded.
"FENAVIN is the leading trade fair of Spanish business"
FENAVIN's Director, Manuel Juliá, who opened the turn of interventions after Romero's welcoming speech, defined the trade fair that he is in charge of running as "the leading trade fair of the Spanish wine business, including all the fairs that take place in the national territory, without forgetting those that are held every two years".
The main technical representative of the trade fair then spoke about the virtues that those doing business at the trade fair have seen in it, such as "its specialization in the winning-over of the demand, without forgetting about the offer".
Juliá also spoke about "an efficient work system in the agri-food sector that is being put in place in other trade fairs, without having recognized its copyright", with traits that define and distinguish it from the others, such as the inclusion of a Business Center, with clear functions in the exhibition space; the fact that the fair takes place on working days and that it is not too long; the possibility of being able to first select the wineries that are of interest; to be able to calmly try out the wines and then hold business meetings with those producing the wines".
In short, for Juliá "the true image and the word that defines FENAVIN is business", a trade fair in which more than 300 persons have worked on its organization, in search of offering the maximum options possible for encounters between the offer and the demand for all the professionals working at the fair; "Their satisfaction is our satisfaction", he sentenced.