José Carlos Capell, Santi Santamaría and Lorenzo Díaz have humorously and courteously checked-out Spanish cuisine at FENAVIN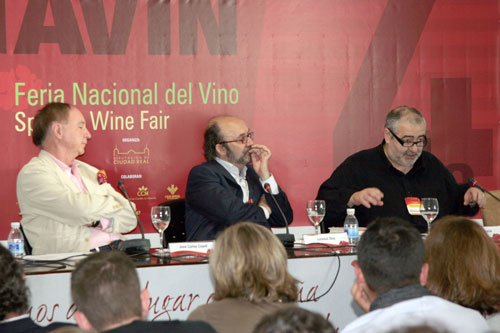 They upheld different stances on the boom that Spanish haute cuisine is experiencing, although they did coincide in "treating wine as a food product"
05.05.2009 |
Chef Santi Santamaría and the Gastronomic Critic José Carlos Capell, defenders in principle of diametrically opposed opinions, have been the stars of an entertaining debate on the day of inauguration at Fenavin 2009, which, as mentioned by the moderator of the debate, Lorenzo Díaz (Gastronomic Journalist), has been "a photocopy of the state of gastronomy which is immersed in the crisis". There has been much expectation to see the trio, with the audience filling the hall to capacity at this "Check-up of Spanish Cuisine".
With the starting point that "the essence of democracy is to be found in discrepancy", Lorenzo Díaz introduced both speakers and their literary works and asking them how each understood Spanish cuisine directly opened the debate.
Capell: "Raw material and dining room personnel, our deficiencies in the kitchen"
For Capell, Gastronomic Critic for the newspaper El País, member of the Spanish Academy of Gastronomy and one of the most highly respected writers in the world of Spanish cuisine, "the phenomenon of Spanish cuisine is unknown in the world". He distinguished three levels: vanguard chefs, good chefs and a deficient base of cooks, apart from considering that "Spain has problems with the raw material used in the kitchen, as most is not very good". And he stressed that "dining room personnel do not have the category they have in other countries, such as France, where the profession is valued and it is a source of pride, while in Spain to be a waiter or Maître d'hôtel seems to be a degradation".
Santi Santamaría considers that the term "Spanish Cuisine" is a little behind the times and he spoke about the dualities of homemade cooking and professional cooking; and cuisine with identity or traditional and vanguard or laboratory cuisine. For the Chef, these great focal points feed and feedback each other.
In turn he asked himself if "we are actually eating better in Spain than we did a few years ago or worse". According to his information, "the behavioral guidelines are changing in our country, where we are eating worse and worse everyday, because we are becoming Americanized in our tastes, abusing of fast food as we are". As a counterpoint they spoke about a study made by the FAO that says that the Mediterranean diet is in crisis and another study that indicates that "the products of the Mediterranean diet have gone up in price in more than 400% in the last few years".
Santamaría, who defines himself as a classic chef, has his concerns and he assured that "a country that loses its identity and roots is a sick country, a country that has lost the compass of its destiny". He also assured that "perhaps the image in Europe that is being created is that Spanish cuisine is all chemistry and I don't think that is good for us, or for those of us who are not dedicated to this type of ephemeral cuisine, but rather to a cuisine that is based on the memory of the flavors of a village".
Lorenzo Díaz: What will happen after this gastronomic bubble?
Fully immersed in a moment of crisis, Lorenzo Díaz turned the debate around when he asked what will happen after this gastronomic bubble, will haute cuisine be capable of overcoming the crisis? Both coincided in that "once the crisis is over, nothing will ever be the same again; as we find ourselves in a thrilling moment of transition, before a future that is full of questions", added Capell, with Díaz adding that "the culinary protocol is coming to its end".
In this respect, Santamaría indicated that "we find ourselves in times of good fortune, we have grown in the culinary offer, although quite probably not in the number of customers, perhaps because there was a base of citizens, or rather most of the citizens who came to Spain did not have enough purchasing power to get hooked on haute cuisine",. On the other hand he criticized how in our country "we are incapable of creating a network of schools in the entire world that sells our gastronomy".
And the debate came to its conclusion when the question of whether what is happening in Spain is a reflection of what is occurring in the world came up. José Carlos Capell spoke about the new tendencies in which gastronomy is immersed, with an ever-stronger increase in ecological awareness; "we are going from the technical chef to the ecological chef". And he made it quite clear that the way we eat is going to be different because "there is a tendency to share everything", globalization is all around us, because already in the most cosmopolitan cities it can be seen how "dispersion and diversity is arising, while the roots are being lost".
Altogether, a radical change in habits is imposed, before which Santamaría is a defender of "educating the consumers in better eating habits at school, through the televisions and in the family". He also defended that "eating properly is a good way of life and we must discard anything that does not provide nutrients and all those things that do nothing but fatten the current accounts of the great industries or the multinationals".
These last words gave way to the intervention of the audience, in which the controversy surrounding Santamaría with other more vanguard chefs again appeared.
Santamaria: "We drink wine for its health benefits and not only for pleasure"
Just moments before the debate, when answering the media, both Capell and Santamaria were supporters of wine "being treated as a food product and not like an alcoholic beverage, this if we want to increase its consumption amongst younger people". "We have to make it known that we do not only drink wine for pleasure, but also for its health benefits", asserted Santamaría.
Santi Santamaría, Master Chef known to all - seven stars shared out between his three establishments: 'Racò de Can Fabes', 'Evo' and 'Sancelony'-, rocked the foundations of his trade when he published the book 'La cocina al desnudo' (The Kitchen Laid Bare) in May of 2008. As some have said, "the scandal arrived with him", this given that in his work he attacks many of the usual practices that in the last decade have been taking place in the kitchens, elevating Spanish gastronomy to the highest level on a global scale.
The greatest criticisms made by Santamaría were aimed at the assortment of additives that proliferate in the dishes prepared by many restaurants, and that have given rise to the so-called 'scientific cuisine' or 'molecular gastronomy'. However, the Chef also pointed out the exorbitant mediatization of his profession. As indicated by Lorenzo Díaz in his prolog to the book, "it is with humor that Santamaría takes a shot at the myths of the profession, denouncing that one of the greatest challenges faced by today's chefs is to avoid becoming the court jesters of the snobs and the posh".
The Catalan Chef also regrets the loss of traditional values, the gastronomic disorder where the type of life we are leading is taking us. As underlined by the Chef himself, "49% of Spanish housewives spend less than an hour a day cooking", and, what is even worse, "40% don't even enjoy cooking".
At this encounter Lorenzo Díaz, proud Manchego, sociologist, journalist and habitual collaborator of Onda Cero, took on the role of the 'bad guy', of the 'instigator', moderating a debate in which sparks could have easily started flying. Finally, however, as the saying goes, things did not get bloody, to the point that Díaz himself even added: "I'm seriously considering setting-up an NGO with you guys".