The journalist José Ribagorda has moderated the table on the boom of the small Denominations of Origin at FENAVIN 2009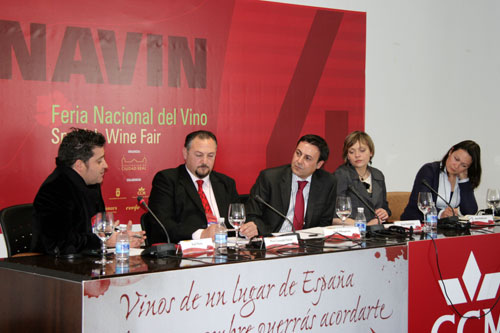 Enologists are wagering on the recuperation of autochthonous grapes as a guaranty of the quality of wines
05.05.2009 |
José Ribagorda, head of Telecinco's weekend news has moderated a round table this morning on the boom of the smaller Denominations of Origin, this within the frame of FENAVIN, National Trade Fair on Wine, which is being held in the Ciudad Real Trade Fair Pavilion from May 5th to the 7th.
The winemaker Raúl Pérez has also participated in the round table; along with the manager of Orowines Spain, Kasia Romanska; the enologist Amy Hopkinson and the enologist for Amadís de Gaula, Francisco Granado Falcó.
The boom of the smaller denominations of origin, how they have advanced in quality in the last few years and how they are indisputably making wise decisions, as is in many cases the recuperation of grapes from autochthonous regions, in the areas in which they are located, have all been subjects that have been covered during this encounter in which each lecturer gave his point of view and summarized their experiences.
For the New Zealand born enologist Amy Hopkinson, who produces wines with ungrafted, centuries-old grapes in Viñas del Cenit, working the autochthonous grape in Castilla y Leon has been an enriching and gratifying experience, in which she has given more importance to quality than to quantity.
One of our country's best sommeliers, Kasia Romanska, who already participated in the National Trade Fair on Wine on several occasions, has expressed herself along similar lines, highlighting the importance of working with grapes from areas that have been demoted, as is the case with Jumilla. She has commented that in the United States acceptance of the autochthonous grape is greater than in the Spanish market and that they are more open to varieties rather than to large areas. Notwithstanding, she has also commented that "the focus is changing and that is important, because quality is starting to outweigh the importance of quantity".
Raúl Pérez, in his first visit to FENAVIN, represents the new generation of enologists that are eager to open other frontiers for Galician wine. For this young winemaker, who has made a name for himself with his red wines from El Bierzo, and who continues to be the enologist for Bodegas Estefanía (Tilenus), the concept of denomination of origin in Spain covers very large areas and he has preferred to take refuge in areas with a different profile. He adds "which have not been invaded by the huge denominations of origin, but have rather maintained their own autochthonous varieties". The Bierzo born enologist has obtained a score of 98 over 100 with two of his wines in a tasting session held by the prestigious specialist Robert Parker, main international referent.
Francisco Granado, enologist for Amadís de Gaula, with a professional trajectory that has been acquired as a consulting enologist in different wineries in diverse areas of winegrowing Spain, explained that his philosophy is to find areas in which the grape is of a higher quality, to then blend them into wines. With regards to the crisis in the sector, Granado points out that it is now being noticed in higher priced wines, as is likewise the case in countries such as Germany and France, where consumption of wine at home has intensified, while it has dropped in the restaurants "because now people are starting to be reticent about paying a high price for a bottle of wine".