The North American Chef Heather Johnston wagers on blogs as a communication tool for wine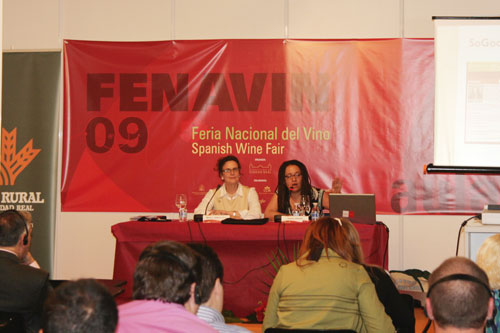 Marie L. Calderón and Heather Johnston
Heather Johnston, who is also a specialist in wines, is a staunch supporter of Internet's social networks as an efficient way to reach the consumers
05.05.2009 |
The North American Chef and Wine Expert Heather Johnston, soul of http://sogood.tv has been the lecturer of the conference "Marketing of Wine I: Communication. New ways of reaching the consumers", which has taken place on Tuesday morning, May 5th at FENAVIN 2009. In the opinion of this specialist, consumers trust more in "word-of-mouth" type messages and she believes that blogs and social networks promote this type of communication, which she considers ideal for the world of wine. Also, the Wine Gallery has been Johnston's choice of stage to prepare various tapas and to try diverse wines during the afternoon in her on-line program (http://www.youtube.com/watch?v=vglptANRw8I).
Johnston has explained that in New York Spanish wines enjoy an excellent reputation, in particular because of the quality-price ratio and that everybody enjoys fine dining and drinking. However, eating simple dishes does not have to come into conflict with harmonizing them with good wines, "I always bring them together because I think that when they are paired they have more to offer and they provide more possibilities for enjoyment".
Heather Johnston started her blog, http://sogood.tv/, when she was writing a newsletter with recipes for a wine store, this with the aim of publishing them. A year later, along with her husband, she participated in a very popular TV show in the States "The Next TV Food Network Star", with a demonstration of cooking that lasted three minutes, which was later uploaded on YouTube. This is when she discovered the potential of the tool and decided to dedicate herself to the matter in full.
Thanks to YouTube, Heather's audience is highly varied. She has obtained response from people all over the world, apart from a group of fans and subscribers who really enjoy food and wine.
Users visiting Heather's videos on her blog normally want to know how to cook and feel comfortable in the kitchen and wine cellar. According to the Chef, "people have stopped going to bars and they now buy wine and take it home to enjoy it. They want simple recipes, quite often "comfort" food (typical homemade fare) and with basic information about wine so that their selection process will be easier", she says, setting as an example a Macaroni and Cheese recipe that has received more than 100,000 visits from persons looking for this dish on the Internet. While they were at it they also learned a bit about a Rioja red wine, which was the wine she had decided to pair with the dish.
In Johnston's opinion, the most successful blogs have three characteristics in common: a good level of content, they are entertaining and they are written by passionate authors who leave the mark of their personality on them. "There are people all over the world who are passionate and curious about the world of gastronomy and wine and they are enthusiastic about sharing their opinions and experiences. Also, the Internet is a fantastic medium for food and wine, in particular the videos".
"People used to talk about food and wine through books, television and in personal discussions. Now, with the Internet, if anybody has a doubt about a wine, all they have to do is Google it and then they will find one of my videos with the answer to their doubts", she concludes.