On Thursday the 7th the Chef Martín Berasategui, Michelin 3 star rating, will be the star of a Yugo Wines Pairing Session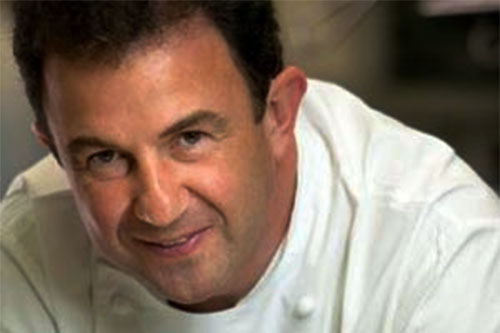 Organized by the Cooperative Cristo de la Vega in Socuéllamos
04.05.2009 |
The well-known Chef Martín Berasategui, Michelin 3 star rating, will be participating at Fenavin 2009 this Thursday at 12:30 hours in Lecture Hall 2, in a commented tasting session on Yugo Wines, paired with dishes that the Chef himself will be preparing and organized by the Cooperative Cristo de la Vega in Socuéllamos (Ciudad Real).
Six Yugo Wines will be tasted at this commented session, specifically the three young wines corresponding to the 2008 vintage, an Airen white wine, a rosé (Tempranillo and Garnacha) and the "coupage" (Merlot, Syrah and Tempranillo), as well as the Yugo Crianza Tempranillo; Reserva 50 Aniversario and the Yugo brut.
These wines, always in search of the perfect union between dish and beverage, will be paired with six dishes that the innovative Basque chef will be preparing. Thus, the white Yugo will be paired with pineapple peach gazpacho with Txacoli-style cockles. The young red Yugo will be paired with farmhouse egg with liquid herb salad beets, Basque stew carpaccio and cheese. The rosé Yugo will be paired with a sandwich of scallops and herbs in spider crab infusion with raw celery, turnip and artichoke salad.
Likewise pairing of the Yugo Crianza will be with an Araiz Infusion, made in steakhouse fashion with a bone of fresh pasta, smothered in chive marinated wild mushrooms with small touches of truffled cream. The Yugo Reserva will be paired with carbon-roasted "Luismi" lamb with a terrine of potato, mini Ibérico bacon, and wild mushroom marmalade. Finally, the Yugo brut will be paired with an oyster with watercress, arucula and apple chlorophyll, lemon-grass, fennel and wood sorrel cream.
According to Javier Ramón Ruiz García, Manager of the Cooperative Cristo de la Vega, "once again, again another year we just had to come back home, to Fenavin, with something different, because when we started talking about innovating in all senses, we have received nothing but facilities and support on the part of the Trade Fair's organization".
The internationally renown Martín Berasategui is one of the architects of new Spanish cuisine, championed by Ferrán Adriá. The restaurant that carries his name is located in Lasarte-Oria (Guipuzcoa) and it has been rated with three Michelin stars. He also counts with other restaurants such as the Kursaal in San Sebastian with one Michelin star or the Guggenheim Museum in Bilbao, etc.
Cooperative Cristo de la Vega, which at Fenavin will be located in the Homero Pavilion, stand B-6 and 8, continues with its policy of innovation. If during the past edition it marked the tendencies by introducing more stylized and lighter packaging for their wines, on this occasion the idea is to wager on quality wine in haute cuisine.