Javier Rioyo, Almudena Grandes, Luis García Montero and José Manuel Caballero Bonald will be analyzing the close and eternal relationship between wine and literature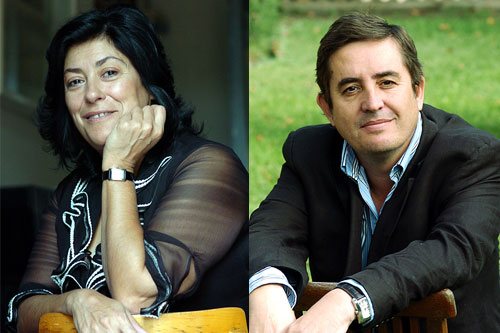 Almudena Grandes and Luis García Montero
The writer and journalist Manuel Juliá will be coordinating the round table 'Wine and Literature', which will be celebrated on Tuesday, May 5th, at 18:00 hours
02.05.2009 |
The relationship between wine and poetry exists from the very beginning, as of the very first poem written in Spanish, "in which Gonzalo de Berceo already spoke of the excellent company of a good wine for any path that was to be walked". Thus affirms the writer José Manuel Caballero Bonald, National Poetry Award laureate in 2006 and one of the participants in the round table 'Wine and Literature'. In this round table the journalist and writer Manuel Juliá has managed to gather together the likewise writer and columnist for El País Javier Rioyo and the writers Almudena Grandes and Luis García Montero, in one of the most attractive proposals of the program of activities to be held at FENAVIN. The trade fair on wine, which will be opening its doors on the upcoming May 5 at the Trade Fair Pavilion in Ciudad Real.
In Bonald's words, "wine has always been very much present in the history of literature, in eulogistic terms and also as a very important part of culture". In his opinion, "these are two channels of one same vital current". For this writer, born in Jerez in the past 20th Century, in the year 1926, wine is a royal food that consumes, "but it is also an element of the spirit, essential to live life to the full".
In his opinion, "with the "botellon" (binge drinking) the new generations are experiencing "the decline of the noble consumption of wine, even if it is a legitimate diversion, although what is true - he recognizes with sorrow - is that the esthetic concept of wine as beauty and plenitude has been lost".
With regards to FENAVIN, he is impatient waiting for the Trade Fair to start so that he can try the new wines, because excellent wines are being made in all areas of the Peninsula, although he is particularly curious about those being made in La Mancha, "a place where I know that splendid wines are created. This is the reason why I am anxiously waiting for someone to help me discover them".
On his part the writer and columnist for El País, Javier Rioyo, believes that "wine is so highly linked to the principle of literature, that both are inseparable: you can find it in mythology, in the Bible, in the first texts written in Spanish... it travels through our oral tradition, our painted, written, mythological culture...", he adds.
For Rioyo, "wine helps us to escape reality, it helps in the communion between people, it is an element that helps us relax, be happier, feel we have less problems... The search for pleasure is innate to human beings and wine is directly related with this search", he asserts.
In as far as FENAVIN is concerned, the writer has known about it since its second edition and his opinion is that "it is an important trade fair and it has a great capacity to generate business and make new wines known every two years". In his opinion, the idea that there are only two communities here with good wine has been broken. "Now - he recognizes - good wine is being made in many places throughout Spain, to the point of even fighting it out with nature in many cases ". During his visit to the Trade Fair he is foreseeing "not only enjoying the pleasure of trying good wines that I already know about, but, of course, discovering other wines".
On his part, another of the participants in the round table, the great Granada born poet Luis García Montero, assures that "wine is a presence in life that dates from ancient times and literature is a negotiation with life, therefore, the relationship has always been a close one". In his opinion, "wine easily turns into a metaphor, both in times of crisis, such as in Bécquer's Rimas, or when it becomes a metaphor of happiness and optimism. This is the case with the poetry of the 18th Century, or in works by José Cadalso, Meléndez Valdés or, closer in time, in works such as "Poema al vino" (Poetry to Wine), by Borges".
In his opinion, wine does not really differ much from this last perspective, "given that it is an invitation to happiness". He considers "that those who appreciate a good wine also appreciate life and that is humankind's great dignity" he sentences.
Concerning what he expects from FENAVIN, his answer is categorical: "I want to share my impressions on literature with friends and enjoy a glass of wine precisely to the health of literature and wine".
Almudena Grandes: "I am unable to conceive two people trying to seduce each other with a couple of glasses of water, while I can conceive this with a couple of glasses of red wine"
The writer Almudena Grandes will also be part of the round table "Literature and Wine", relationship that she is convinced exists since "Noah got drunk, because wine has exercised as object and subject in literature, in such a way that many writers have been great drinkers of wine and great writers".
The characters always have a relationship with wine in all her books. "I am unable to conceive two people trying to seduce each other with a couple of glasses of water", she assures, thus the reason why this University Graduate in Geography and History when at home "drinks red wine with her meals, because of the pleasures associated with wine, apart from the pleasure that wine itself produces".
The author of novels as well known as "Las Edades de Lúlu" (The Ages of Lulu), "Malena, nombre de Tango" (Malena is a Tango Name), "Te llamaré viernes" (I'll Call you Friday) or "El Corazón Helado" (The Frozen Heart) (chosen as the Best Book of the Year 2008), undoubtedly tends to go for red wines. "I'm the kind of person who thinks that the best white wine is a red wine". While in turn she considers herself very patriotic in her wine preferences: "I consider that Spanish wine has the best quality/price ratio in the world".
In addition, she chooses wines from those areas that have a specific climate that is benefactor for cultivation, such as Castilla-La Mancha, Rioja, Ribera del Duero, amongst others. "I consider that the wines from these production areas are more interesting because they are cultivated in a more natural manner, free of chemicals, the way I like them", says the writer who is also a columnist for the daily newspaper El País.
Although she has never visited Fenavin, she loves the idea of the National Trade Fair on Wine, which also coincides with her 49th birthday: "I not only find it quite logical that Spain would be the star of a fair as important as this one, but with this trade fair the culture of wine is also promoted". In addition, she considers that the round table "is somewhat like a family reunion that may just turn out to be very entertaining", because "Caballero Bonald, Javier Rioyo and Luis García Montero are actually just like family", she finally comments.