Díaz Zarco: "We must continue to make efforts in order to have adequate representation of our wines in the domestic market"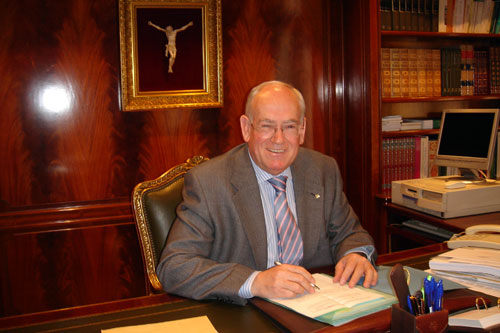 In the opinion of the President of the Caja Rural de Ciudad Real, it is very important to increase the market share of Ciudad Real wines in the country, something for which, in his opinion, FENAVIN may be a great platform
01.05.2009 |
Luis Díaz Zarco, President of the Caja Rural de Ciudad Real, institution that sponsors FENAVIN's Wine Gallery, which will open its doors on the upcoming May 5th, is convinced that the wines from Castilla-La Mancha and in particular from Ciudad Real "are the best wines in the world: they are very competitive and they have already opened up a niche". However, in his opinion, it is very important to continue making efforts in commercialization, although not abroad, but on the Spanish market, "because despite representing 50% of national production - he points out- we do not have that level of representation on the Spanish market and in the restaurant and hotel sector".
In the opinion of the highest representative of the Caja Rural, "our prices are absolutely competitive, great quality and great price; however, what is in fact missing -he acknowledges- is making them known and putting a network of people on the market that can make wine known in every last corner. With a good distribution network I believe that this commercialization will insure that our wines will finally also be known within our borders, because we are making great efforts abroad, but our own market is still a pending matter".
And in this task of increasing the presence of the wines from the province and region in Spain, Díaz Zarzo is convinced that FENAVIN will be a great help. "Already the fair has made our wines better known in all of Spain and in the world and this is very important, although it is also true that the great Spanish hotels and restaurants do not include our wines in their wine lists and I consider that this task is and will be fundamental for development of the sector".
"The concept that only an expensive wine is a good one must be eliminated"
In another order of things and with regards to the current tendency of "democratization of wine consumption", headed by some viniculture critics, in which the ratio between high price and quality is weakening, Díaz Zarco is in agreement in that "as consumers we know when a wine is good or bad and we have an incorrect concept of price. Bad is assimilated to cheap and good to expensive and this concept must be eliminated".
"When I go to the big supermarkets - he says - I compare how they place the prices and on more than one occasion I have already called-up one of our wineries and recommended that they should not supply these great warehouses. Our wine used to stand at a price of somewhat more than one euro and it used to be the cheapest of the supermarket shelf, while the cheaper ones following in price would stand at about five euros, on a minimum basis, and the truth of the matter is that our wine was the best, and by a long way!"
On the other hand and with regards to the global economic crisis and, in particular, the crisis in the agriculture sector, Díaz Zarco considers that this sector "is permanently in crisis, thus I believe that they will overcome the global crisis better than other sectors. I am confident that all the farmers will be reinforced by this situation, in which we have to see an opportunity to live better" he sentences.
Along this line, he also asserts that "the main strength that cooperativism in Castilla-La Mancha has is the partner, and we must remember that more than 50% of the population is included in the cooperative and, in many cases, it is actually the most important company in a town. On the other hand, its weakness - he adds - is that they must go in search of associations and there are formulas that can allow them to reduce expenses and make better products and this is where the Caja Rural is more than willing to help our professionals in this process. Perhaps we are not calling them mergers, but associations or integrations are a tendency to be followed in a world in which we must save more and work more".