Specialization and the size are the keys to FENAVIN 2017's success
Buyers highlight the Wine Gallery and the "Contacte Con…" (Contact With) program as essential and unique tools for business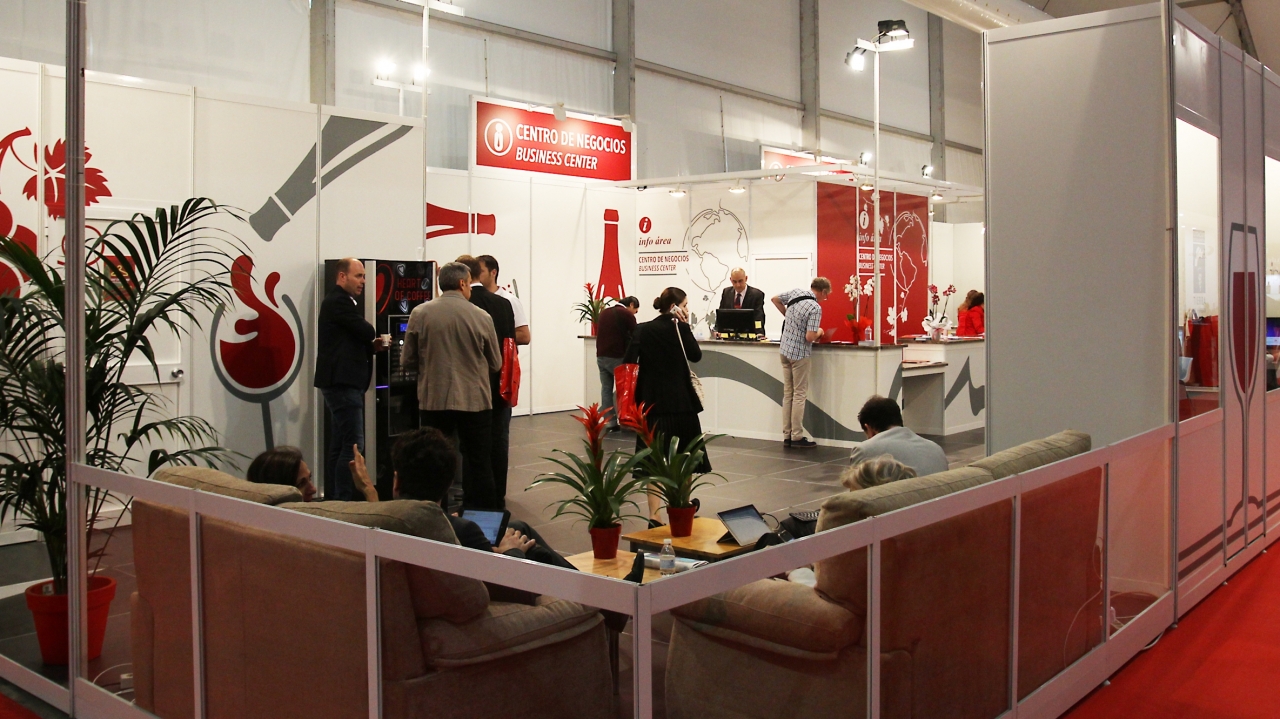 FENAVIN 2017's Business Center is a constant coming and going of people, a small Tower of Babel if you will, in which you can hear languages such as Chinese, Japanese, English and even Turkish in just a few meters. The hostesses are constantly assisting the guests, answering all sorts of questions and the computers are always occupied and there is always someone lagging behind taking advantage of the sofas to rest up for a bit from the long hours of walking around the stands in search of their desired wine.
Even before the trade fair we knew that activity would be frenetic, because already 6,876 commercial contacts had been made, 45 percent more than in the past edition, and 18,514 professionals had already been accredited, representing 30% more than two years ago at the same time. Also, the doors have opened in this edition with a view to the number of national and international buyers reaching almost 17,000, 11% more than in the past edition, and of these 4,000 have arrived from 90 different countries from all continents.
An example of this confluence of nationalities can be seen in just a few minutes, and the most repeated comment is how useful the bags with which all the buyers have been welcomed are to all of them.
After a brief chat with some of them it is easy to reach the conclusion that all of them coincide in highlighting that both the specialization and the size are the two keys to FENAVIN's success, apart from praising the Wine Gallery and the "Contacte Con…" (Contact With…) program as essential and unique tools for business.
Carlos Calderón, founder of eVinhosdaEspanha, affirms that apart from two wineries, all the wines he has taken to Brazil were found at FENAVIN, "although we also use the buyer program, which I think is genius and extremely easy to use and extremely informative, however, it is only the basis, as afterwards when you start walking around the aisles, that is really when you start to relax and see what really interests you the most". Carlos Calderón only sells Spanish wines and believes that it is only at FENAVIN where you can find the best Spanish wineries. "Also, those that have more money go to other trade fairs, but that doesn't necessarily mean that they are the best wineries and here you can find all types of wine and sometimes the smaller wineries have more interesting products than the big ones".
Süha Balin from Vinotto Gida Turizm Pazarlama works on importing wine, among other beverages, to all of Turkey. His clients are hotels, restaurants and enotecas. He comments that before he did not import Spanish wines, but ever since he visited FENAVIN on several occasions he has started to import Spanish wine.
He likes the system that the trade fair uses because it is very approachable. You can talk directly with the winery so that you can then export. His opinion is that FENAVIN is a good and important trade fair.
Robert G. Simpson, General Manager of Liberty Wine Merchants in Canada is visiting FENAVIN for the first time and his opinion is that it is "fantastic" and he loves the facilities and he thinks it is a genius idea to be able to work in the Business Center. He is also very pleased with the personal treatment received at the trade fair. I came in with a few closed meetings, in fact I even had some contracts with wineries that also came in and I have been able to hold many meetings. What he really liked the most was the Wine Gallery, because he was able to try somewhere between five hundred and six hundred wines, and really quickly, having actually selected about twelve to start doing business.
Yoko Ueno and Asami Yasunaga have come in from Japan with the company YG&T Partners Inc. They highlight the fact that the trade fair only has wines from Spain. They also liked the Wine Gallery very much, as it was possible to see it all in the same place. "We are a small company in search of small wineries and this is a place where one can find this type of winery because they have the opportunity to have their own stand". Although they had come in looking for Catalan wines, they have also had the opportunity to try wines pertaining to other designations of origin and they are certainly not discarding working with some of them.
Göran Liby, Agent of Vinos Ibéricos for the Nordic countries is a Swede and he has been coming in to FENAVIN for the last seven editions. He affirms that the main quality of the trade fair is that it only deals with wines, apart from the fact that this is where he was able to find a wine of which he has sold one million liters in the Nordic countries. Göran Liby is a great expert in Spanish wines and when he visits FENAVIN he always carries a list with the wineries that he wants to meticulously take note of.
And representing the national buyers we have Juan Sánchez Muliterno, of Sánchez Muliterno, Vinos de Calidad, who mentions that he comes in to FENAVIN to maintain contact with the wineries with which he already works, and also to find wines with some novelties in a setting as complex as the current one and also to increase his work portfolio. "FENAVIN represents an opportunity, as in a single day it is possible to meet up with a good number of wine producers from Spain. Here it is possible to make quality contacts, because we are dealing directly with the wineries. And the tools that the trade fair offers are very useful and they also have a very positive influence on the development of the trade fair itself", he concludes.
Attached images
Attached documents
Back