"I could also find the wines I am looking for at Prowein, but at FENAVIN it is much easier and far more comfortable to do the same as we do there"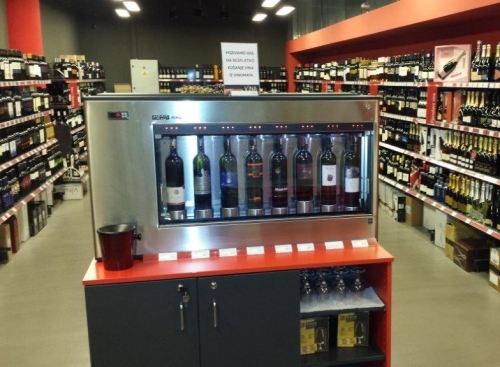 This as explained by Damir Horvat, Director of the Croatian company Dobra Vina Doo, currently integrated with the AWT Distributor, which works on the Serbian, Macedonian, Bulgarian and Slovenian markets and who will be in search of different types of wine at the trade fair.
29.04.2015 |
Damir Horvat, Director of DOBRA VINA Doo –which belongs to the AWT Group, distributor of different products in Serbia, Macedonia, Bulgaria and Slovenia- already visited FENAVIN two years ago and the good experience he enjoyed has led him to repeat. The wines he is looking into for his clients at the Ciudad Real trade fair, which opens its doors on the upcoming May 12th, are specifically for retailers and HoReCa, "which I could probably find at Prowein –as he assures-, although in comparison with FENAVIN, it is much easier and far more comfortable to find and select wines at FENAVIN."
AWT International is one of the leading distributors in Croatia, with a consolidated business volume that reached 280 million Euros and in the year 2014 it acquired the company Dobra Vina, leading specialists in retail sales of wine.
With regards to his presence at FENAVIN, Horvat points out that "what I really like about this Trade Fair is that it is aimed at professionals. In the first place, moving it from the big city is a great idea. This way all the visitors to the trade fair are there to make business. The other thing that is truly fantastic is the platform for making appointments –the "Contact With" Program-. These two things make the trade fair absolutely unique".
"In Croatia increasingly more people are including wine in their daily routine."
When asked about the characteristics of the average consumer of wine in Croatia, this specialist in Spanish wines affirms that "Croatian clients are just like any other client in the world: they are in search of good value for money". And, as a relevant piece of information, consumption of wine forms part of the daily diet of the people of Croatia and, also "more and more people are including wine in their daily routine".
In as far as the position that Spanish wine holds among other wines from the world in his country, this buyer reminds us that Croatia is also a producer country, "which means that the niche is rather small –approximately 3%-, by which we understand that the volume of imported wine is not very large, hence this 3% represents approximately 10% of the wine that is imported", he affirms.
In as far as improving the way in which a Spanish producer can convince a Croatian buyer to choose his wine from among the others, Horvat insists in the quality-price ratio, as this is a determining factor, in particular when dealing with red wines.
His main goal at FENAVIN is "to find wines from different regions, in particular for private stores, wholesalers, retailers and HoReCa", with special attention being paid to the packaging, which must be as he mentions, "clear, as it must be easy to understand what is inside the bottle: the grape variety, the origin and the vintage".