"For the Chilean consumer the visual attributes of the wine carry more importance than they do for the European consumer"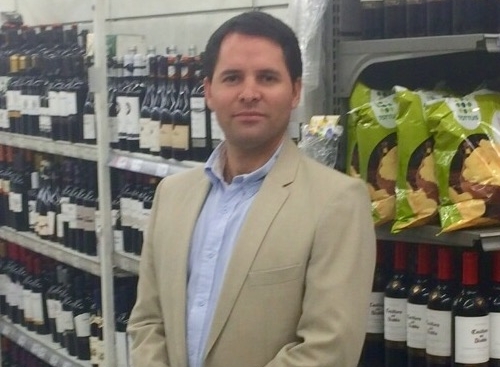 This is the opinion of Gonzalo Pardo Merino, manager of the wine line for the Chilean company of Tottus Supermarkets, who will be visiting FENAVIN for the first time
21.04.2015 |
Chile is also an important worldwide producer of wines, although the buyers of this country also look for special wines that can be differentiated from their own and draw the attention of lovers of autochthonous wines. This is one of the goals of Gonzalo Pardo Merino, manager of the wine line for the Chilean company of Tottus Supermarkets, an important company with stores throughout the country, apart from a powerful online store.
Pardo will be coming in to FENAVIN for the first time with the intention of finding products in different price and quality ranges, "from mass-produced wines right through to Premium wines from a recognized brand, even trying to find alternatives to cava but with a designation of origin".
Chile is at this time an important producer of wine, "competing –he acknowledges- for the same palates as the Spanish, although in a more specialized segment". As he explains, "in Chile there is more of a culture of consumption and the red wine vine-stocks represent close to 80% of the consumption, this in the Cabernet Sauvignon, Carmenere and Merlot varietals. Also, the sparkling wines or cava category has undergone explosive growth in the last 5 years, with its consumption no longer being season based".
More specifically, and in as far as competition of both countries is concerned, this importer points out that "given that Chile is a producer of wines, the cost of Spanish wines does not suffice in order to compete on a more massive scale. Apart from this the vine-stocks are different and they are as still not recognized by the Chilean consumer". It is due to this reason that he recommends that Spanish producers who want to penetrate the Chilean market should "offer good vine-stocks with flavors that are familiar to the Chilean consumer and wines that are good value for money".
At this time the Spanish wines that are consumed in Chile "occupy a more Premium position, with brands such as Miguel Torres and Cava Freixenet leading the pack", and it is actually in the restaurants where lovers of Chilean wine wager on special wines, in particular if it is a local wine used for pairings and tasting sessions. At home Chileans drink special wines when they have guests", he assures us.
In his opinion "the European consumer seems to be more practical in their consumption in comparison with the Chilean consumer, who is more aspirational, and who gives more importance to the visual attributes when taking the decision to purchase".
In short, this powerful Chilean company takes very much into account the fact that "Spain is the greatest producer of wines at a global level, therefore, it is relevant to us when trying to find business opportunities in this area".