"It is essential that Spanish wine be made known in the international schools of gastronomy and the schools for sommeliers"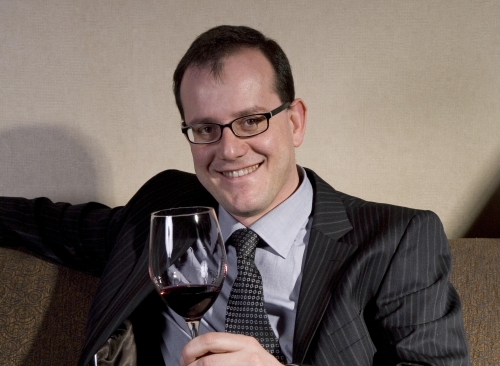 This is what Germán Muñoz, professional taster and international consultant on wines, comments as a specialist in "terroir", who will be offering a conference at FENAVIN on "The Wine Market in Belgium", on the upcoming May 12th.
11.03.2015 |
"Wine is quite probably the product touched by man that holds the greatest symbolic and cultural content, hence the reason why it is important to sow for the future and make Spanish wine known in the International schools of gastronomy and the schools for sommeliers". Germán Muñoz is the person who has mentioned this, a "courtier" –as he likes to call his work as a wine trader-, professional taster and international consultant on wines, as well as a specialist in "terroirs", work that he carries out at his company www.terroir34.com, and who will be talking about the characteristics of the Belgian wine market during a conference offered at FENAVIN on the upcoming May 12th.
He is a member of honour of the Fraternity of Bordeaux Wine and in the interview with FENAVIN"s organization he shows himself to be absolutely convinced that "it is very difficult to find another country with the excellent quality-price ratio that the wines of Spain have. Perhaps Chile, although its distance from everywhere else raises the transport costs". According to his opinion, "Spain gathers together modernity in the production with a widespread wine-growing history and culture, and it produces both rotation wines, as well as highly consolidated wines of reference".
In this sense he believes that in Belgium the Spanish designations of origin should make a greater effort to make their respective "terroirs" known in the Belgian hospitality industry schools and the schools for sommeliers. As he points out, "at least three quarter parts of the syllabus deals with French wine, hence working with schools of gastronomy should be a priority, as we are training future ambassadors of our wines".
"I also work at schools, with teenagers"
In this sense and after asking him about the possibility of using the same teaching method in Spain, Muñoz points out that "we will not only have to work at Spanish hotel and restaurant schools, but also at the normal schools with teenagers, because transmitting culture is basic: if I don"t study something, then I am not aware of it and I am incapable of appreciating it, therefore, I will not value other characteristics apart from the price and I will not be willing to pay more for a bottle. We must stop thinking on the short-term and start thinking about "selling and "transmitting" wine": wine is much more than just a mere reddish coloured liquid", he concludes.
"FENAVIN is the very best trade fair on wines in Spain"
Muñoz, who has already taken part in two previous editions of FENAVIN, believes that "it is a great trade fair, quite possibly the best in Spain in the opinion of the importers that want to discover something new, and this is due to its great diversity and the level of the participants. It is an excellent and useful trade fair, the trade fair where the most wineries can be found, where you can directly speak with the owners and, therefore, really find out what their philosophy is, what really moves each winery. I also consider that there is good quality and price in rotation, that is, that the final price will continue to be very interesting for the end consumer".
This "courtier" specialized in "terroirs" explains that Spanish wine is already second, right behind French wine, in the number of bottles sold in Belgium, although sparkling wines is already the first, as Cava has displaced Champagne in the mind of the consumer in Flanders. "This can be clearly observed in the Flemish restaurant menus, where it is quite normal to start the list of sparkling wines with Cavas, in detriment of Champagne, which is the exact opposite of what used to happen before". As he details, "this is particularly striking among the young Flemish people, in the north of Belgium, as they are directly requesting Cava when their grandparents were requesting Champagne. Rioja and Jerez are the next Spanish wines that are best considered".
In as far as the habits of the Belgian people with regards to wine, Muñoz explains that three out of every four bottles sold there are marketed in large supermarkets. "People are looking for quality at a reasonable price and they realize that the large supermarkets are selecting great wines at good prices. Belgian people love to discover new wines and regions, as well as the history behind them: culture and wine walk hand-in-hand", he points out.
"Spanish producers must offer quality, quality and quality"
This way those Spanish producers that want to really take over the Belgian market will have to offer "quality, quality and quality", he assures us, even in those harvest years that are more difficult. The second important factor for a Belgian buyer is "absolute seriousness in the prices, that is to say, continuity", and finally, he insists on the importance of spreading the word in hotel, restaurant and sommelier schools.
Muñoz also highlights the fact that "Belgians enjoy more purchasing power, as Belgium is approximately 50% wealthier than Spain in as far as per capita income is concerned and there is a great culture on wines, in particular French wines". In as far as the differences between a consumer of Belgian wine and a consumer of Spanish wine, he explains that "since Belgium is located right in the middle of Europe, it is very easy for the Belgian people to discover great wines, for example, German wines, while in Spain we are far more focused on our own wines due to a geographical matter and because Spain is a great producer of wine". In this sense he highlights that "there is much more eagerness in Belgium for novelties because barely any wine is produced in Belgium, and that makes them even more objective. Meanwhile, in La Rioja they will say that the best wine is their own and in other wine-growing regions they will say the exact same thing –the best wine is always their own-, and, in fact, everybody is right because we are not only dealing with quality, but also with culture –he affirms-. Hence, if we are not capable of transmitting this culture, then people will not be able to pay attention to what is behind the bottle of Spanish wine –the climate, the varietals, the soils, the wine-growing techniques and the history of its producers- and they will not know how to appreciate this very important added value", he insists.
On Castilla-La Mancha Wines
When asked about the wine of Castilla-La Mancha, Muñoz underlines "its fabulous "terroir" for fresh and fruity wines and its enormous potential on the international markets. However –he adds- it seems that we always need to hear from abroad how good we are in order to really consider ourselves".
In his opinion, "Castilla-La Mancha has one of the best wine-growing "terroirs" in the world, "and it is and has always been a paradise for the vine, even since the time of the Romans. Since it is an enormous region, with soils that are in general poor, the yield per hectare is low, hence, the complexity of its wines, under equal conditions, is far superior. Also, the presence of fruit in the wines is highly appreciated, in particular among younger people who are not in search of wine with a high presence of wood, and even more so among women, whose influence in the process of selection of a wine both in the restaurant and at home is increasingly greater all the time, which is the complete contrary of what used to happen in the generation of our parents or grandparents", he concludes.