The Wine Gallery opens for longer to allow buyers to calmly sample almost 1,300 wines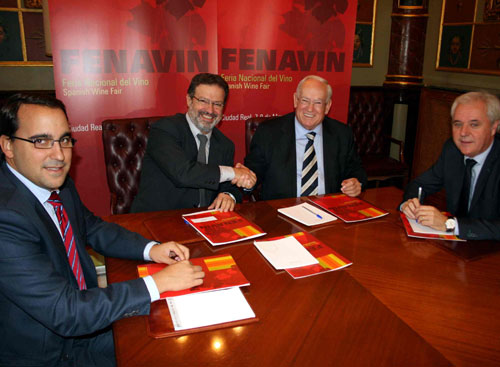 Globalcaja sponsors this business tool, one of the pillars of the FENAVIN's success, for the seventh year, along with related activities.
22.10.2012 |
The Wine Gallery, a tool that presents the richness and diversity of Spain's wine sector to buyers from all over the world, is extending it opening hours at FENAVIN 2013, allowing buyers to experience almost 1,300 wines in more comfort. This is 10% more wines than in 2010, all labelled perfectly and in optimal temperature and conditions for tasting. The Wine Gallery is open between May 7 and 9, 2013.
To develop this effective business tool, created by the organization in 2001, and other complementary activities, Globalcaja has donated 90,160 Euros, as agreed in the seventh collaboration agreement between FENAVIN and the cooperative bank. The deal was signed by Nemesio de Lara, Provincial and Fair President, and Luis Díaz-Zarco, Globalcaja President, in the presence of FENAVIN Coordinator José Fernando Sánchez Bódalo, Fair Director Manuel Juliá, and Globalcaja Vice-President Pedro Palacios.
"Fenavin is one of the most important fairs in the world", according to Globalcaja's President
The Globalcaja President highlighted that "FENAVIN is one of the most important trade fairs in the world", to the delight of the Fair President, who commented that "the way others see our work is the best way to value our efforts. You have to ask the winery owners, cooperatives, oenologists and sector professionals; they make it clear that the National Wine Fair has contributed to the current golden period for Spain's wine sector".
The Gallery: Designed to make wine buyer's work easier
The main aim of the Wine Gallery is to provide wine sector professionals with a calm and comfortable space in which to sample the wines that they are interested in. It allows them to work efficiently and try all the products that they are considering before visiting the pavilions.
Each wine is exhibited along with a detailed label, in English and Spanish, displaying all the relevant details – tasting notes, origins, grape varieties, production methods, price, etc. The labels also include the location of the stand of the winery in question. This allows the buyer to focus their efforts and contact directly with the wineries that they are interested in doing business with.
Furthermore, there are online computer terminals within the Wine Gallery, as well as at other locations around the Fair, which allow buyers to access the FENAVIN 2013 Business Finder.