Ramón Tamames will talk about his ideas on 'The Culture of Wine and Spanish Youth' at FENAVIN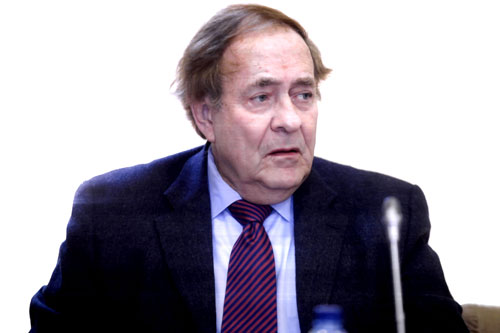 The great observer and analyst of Spain's social-economic reality will cover a controversial matter that is of tremendous importance for the national wine market
27.04.2009 |
Amongst the numerous areas in which Professor Tamames has taken an interest throughout his career, quite surely the world of wine is one of his favorites. When he talks about this subject, his capacity for analysis -sprinkled with a good touch of irony- is combined with the passion he feels for the matter itself. Thus it will be verified by those who will be present at the conference he is to impart at FENAVIN, the National Trade Fair on Wine, which will take place at the Ciudad Real Trade Fair Pavilion from May 5th to the 7th.
The lecture, with the title 'The Culture of Wine and Spanish Youth', will verse on a topic on which rivers of ink have already been expended in the specialized and general media, and which has given rise to some initiatives that have had a very diverse repercussion. Undoubtedly this subject is highly attractive to the professionals of the sector, who for some time now have been in search of broadening their markets within the scope of the younger potential consumers.
It is a contrasted fact that the Spanish wine sector has been greatly transformed in the last few years, turning into a powerful industry, both quantitatively and qualitatively. In fact, it has just recently snatched away France's second position in the world in volume of exports. In other words, now 19% of the global export share corresponds to Spanish wines.
However, domestic consumption has been notably dropping for at least a couple of decades, with the figure currently standing at 18 liters per capita and year, which is far removed from the figures of other traditionally productive countries. "The object of my conference at FENAVIN is normally not included" amongst the many possible causes for this decrease, Professor Tamames asserts. This economist regrets that, in general, Spanish youths are not very knowledgeable in the most elementary notions pertaining to matters of wine: "our young compatriots are incapable of distinguishing a Cariñena from a Rioja; a Ribera del Duero from a Ribera del Guadiana; a Rías Baixas from a Bierzo; or so as to not continue along the same line, a cava from a sparkling wine or a carbonated wine".
One of the theses of the conference gravitates around consumption of "hard" liquor and other drugs, which are common amongst young people; and it puts forward that greater knowledge of the tremendous variety of high quality wines that exist in Spain could have very positive consequences in this respect. Although, quite naturally, there will be many other arguments put forward during the lecture. Arguments that Professor Tamames, expert lecturer, does not want to reveal, "so as to maintain the right level of curiosity, which is essential in a event of this type".
Ramón Tamames is Doctor of Juridical Science and Doctor of Economics. He has been Professor of Economic Structure since 1968, first in Malaga and since 1975 at the Autonomous University of Madrid. He is the author of a certain number of books and articles on Spanish and international economy, as well as on ecology, history and political matters. He has been the Economic Consultant for the United Nations (UNDP) and the Inter-American Development Bank (INTAL). He holds Honorary Degrees by the Universities of Buenos Aires, Lima and Guatemala; he has been a member of The Club of Rome since 1992 and a Jean Monnet Professor of the European Union since 1993. In the year 1997 he received the Rey Jaime I Award in Economy and the National Economy and Environment Award in the year 2003. He was a member of Congress from 1977 to 1981 and he participated in the drafting of the 1978 Spanish Constitution.