FENAVIN will be setting-up three bus routes that will communicate the entire city with the trade fair pavilion on the dates of May 5th to the 7th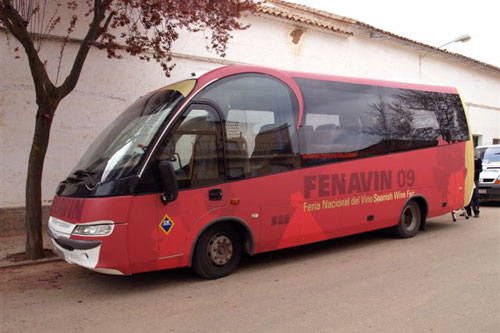 Image of one of the buses that will be circulating during the celebration of the Trade Fair
The organization is in search of comfort for the professionals and residents of Ciudad Real, in such a way that use of private vehicles will be avoided in the measure that is possible
26.04.2009 |
FENAVIN's organization at this edition wants to make it easy to access the 'FENAVIN Space', which is the trade fair pavilion area where the National Trade Fair on Wine is to take place on the dates of May 5th, 6th and 7th. Thus it has designed its own three bus routes, which will be free, identified with the image of the Trade Fair and for use by the professionals that arrive in the city and by the residents of Ciudad Real as well so that they can forget about their car and visit the mentioned 'FENAVIN Space' in absolute comfort.
Thus there will be a Route 1, which will operate from 9:15 AM to 8:00 PM, with a bus every 25 minutes covering the span: AVE Station, Doña Carlota Hotel, Guadiana Hotel, FENAVIN, Paraíso Hotel, Plaza de San Francisco and AVE Station and the inverse route.
In the case of Route 2, the bus will only cover one direction: Alfonso X Hotel (San Pedro Church), Santa Cecilia Hotel, NH Hotel, FENAVIN, NH Hotel, Santa Cecilia Hotel, Alfonso X Hotel. Buses will also run every 25 minutes.
Route 3, also denominated Express, will start at the AVE Station and will go directly to FENAVIN, returning to the mentioned station every 20 minutes, thus speeding up arrival at the trade fair pavilion for all those coming in to Ciudad Real by train. These buses will cover the mentioned route every 20 minutes.
Apart from these routes and as of 4:00 PM hours, there will be a direct bus everyday, which will also be free, running from the capital's Plaza de San Francisco to FENAVIN, with the bus running every 20 to 25 minutes.
To be added to these three routes are routes 1 and 2 that the municipal transport company operates, which include FENAVIN in its route, as is also indicated on the front part of the bus' windshield.
Free Parking with Surveillance
Apart from all this, the organization has also foreseen more than 9000 meters of free supervised parking space, located at Avenida Puente de Retama, alongside the Atenea High School, for all those who prefer to drive their car to FENAVIN. The parking lot will be open from 8:30 AM to 8:30 PM.