FENAVIN will host the Round Table "Classics and Moderns", which will tackle the evolution of Spanish wine in the last few decades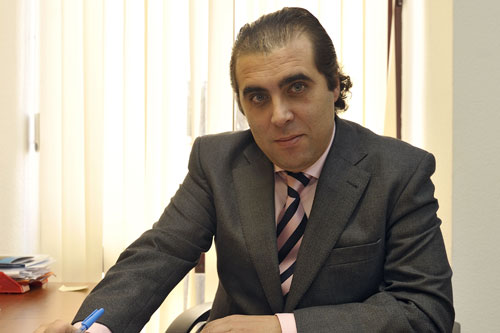 The writer of wine and gastronomy, Andrés Sánchez Magro, coordinator of this round table, believes that this event "will reach first class level thanks to its participants", amongst whom will be Javier Ausás, Álvaro Palacios, Carlos San Pedro and Luis Miguel Martín
23.04.2009 |
The National Trade Fair on Wine, FENAVIN, which will take place in Ciudad Real from May 5th to the 7th will be offering an interesting round table at which the transition of Spanish wine will be analyzed, ranging from the most classic of wines right through to signature wines. Coordinated by the writer Andrés Sánchez Magro, the different speakers will be putting forward their particular view on the revolution that has taken place in the last few decades in wine production.
Andrés Sánchez defines the objective of this round table as "an attempt to find the keys to the change in the consumer's taste, ranging from the classic aged, oaked wines right through to signature wines, which are fruitier and closer to the natural wine producing scope". Gathering together to analyze this evolution at the round table will be Javier Ausás, enologist for Vega Sicilia, one of this country's most classic wineries; Álvaro Palacios, one of the main international representatives of the rupture that is taking place in the world of wine; Carlos San Pedro, as representative of the fusion between classic wines and renovated wines and Luis Miguel Martín, "central figure of the wine planet given his multiple activities", according to Sánchez Magro.
Luis Miguel Martín defends a "tremendous evolution in Spanish wine during the last 20 years, both in the care of the vineyard, as well as in the variety of grapes", although he highlights quality as a common, unifying characteristic: "One must always have great respect for classic wines and modern wines have introduced new aspects, however, what remains in both cases is the quality".
Álvaro Palacios, innovative winemaker who supplied Woody Allen with wine during the shooting of "Vicky, Cristina, Barcelona", will undertake this matter under the perspective of someone who respects tradition, parting from tradition to then innovate, as in his own words "viniculture treasures are part of our historical heritage".
On his part, Javier Ausás, enologist for Vega Sicilia, will be talking about "the difficulty involved in making a classic wine in these current times in which, quite surprisingly, a country with a wine producing tradition such as ours, is still in search of its own style". However, Ausás does not renounce to the evolution, as long as "the terruño is respected, and tradition, which provides us with very goods things and personalizes each wine. There is a tendency nowadays to globalize wine, its aroma and its taste, with which what is lost is diversity".
Finally, Carlos San Pedro will also cover this idea, commenting that "the revolution taking place in Spain with wines, rather than a step forward, is actually a step backwards, because many people are jumping on the bandwagon without really knowing what wine actually means in Europe, looking instead to the new world and loosing the perspective". And he adds that "nowadays those that are returning to the original, to the terruño, are actually the ones that are getting it right"