Matter of sex?... The 'Feminine Taste' in the world of wine, at FENAVIN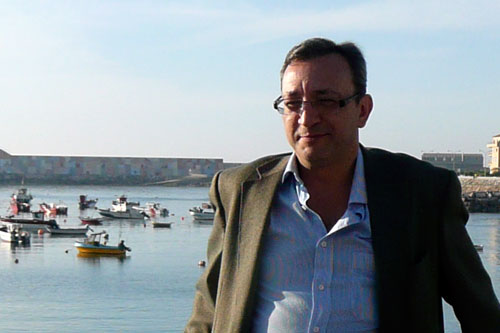 Juan Fernández-Cuesta, will be coordinating the debate
A winemaker, a commercial director, an enologist and a journalist will be putting an interesting debate on the table in that pertaining to whether there is a feminine sensitivity different to a masculine sensitivity with regards to wine
21.04.2009 |
The National Trade Fair on Wine, FENAVIN 2009, which will be held from May 5th to the 7th at the Trade Fair Pavilion in Ciudad Real, will be hosting an interesting round table called "Feminine Taste", at which the core subject will be the woman's role in the wine world and the existence or not of differential characteristics between female and male genders within this industry.
Sandra Falcó (Pagos de Familia Marqués de Griñón), Alicia Huidobro (Quintagama Comunicación), Laura Martínez (Dehesa de los Llanos) and Ana Méndez (Bodegas Campante) will be in charge of covering the different approximations that can be made about the "question of sexes" in the world of wine production. Juan Fernández-Cuesta, journalist for ABC, will be moderating the debate.
The winemaker, journalist, enologist and commercial director will, one by one, respectively analyze the common places, clichés and hackneyed phrases that they have to confront on a daily basis in a sector that, in all senses, is dominated by men. In theory, and as asserted by some of the speakers, the only differences that should be taken into account are those relative to the professional capacity of the individual, independently of gender. However, the truth of the matter is that things are quite different both in and out of the world of wine.
It is an indisputable fact that a saleswoman has some advantages over her male colleague when it comes time to first knock on a door. It is not only easier for a door to open for a woman, but in fact the disposition of the interlocutor is also different. And this because the interlocutor is normally a man, and the society in which we live in is what it is.
Others, of both sexes, consider that women are smarter or more intelligent. And most would be in agreement with the statement that women have greater sensitivity. It certainly wouldn't be the first time that someone says at a tasting session (for men) that "this wine seems to have been made by a woman", without actually knowing that indeed a woman enologist was actually behind its elaboration. Is this a cliché once again, or, is a woman capable of exploring wine producing terrains that a man is incapable of reaching?
One thing is saying that there should be no differences between the sexes, but rather between persons, simply between professionals. And another thing is the real world. There is no doubt that women are occupying more spaces in the viniculture sector every day, as is likewise the case in other sectors. However, "out there, there are still many closed doors, walls and glass ceilings". Or aren't there?