The Tierra de Viñedos Foundation considers that FENAVIN is the best showcase to make its new campaign promoting regional wines known to all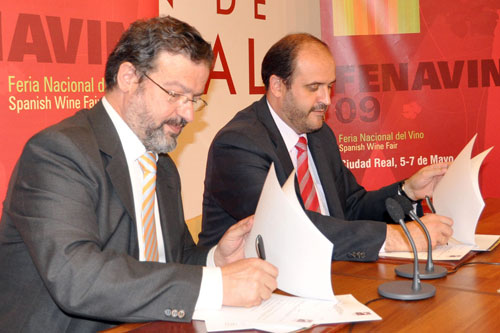 Nemesio de Lara and José Luis Martínez-Guijarro during the signing of the Convention
FENAVIN's President, Nemesio de Lara, and the Minister for Agriculture and Rural Development, José Luis Martínez Guijarro, have signed an agreement by which the Foundation will collaborate with the Trade Fair contributing with the amount of 200,000 Euros for a diversity of activities
22.04.2009 |
"FENAVIN is the greatest showcase for this country's wine and this is the reason why we must take advantage of the occasion for Castilla-La Mancha wines". With this Declaration of Intent the Minister for Agriculture and Rural Development and President of the Tierra de Viñedos Foundation, José Luis Martínez Guijarro, has shown his admiration for the National Trade Fair on Wine, thus signing an agreement of collaboration with the President of the Trade Fair, Nemesio de Lara Guerrero, by means of which the regional institution will contribute with 200,000 Euros to sponsor the different activities that are to take place between the dates of the upcoming May 5th and 7th, the same dates as when the Trade Fair will be held in Ciudad Real.
During the signing of the agreement, De Lara, who acknowledged the Minister's sensitivity with the sector's current problems, spoke about the suitability of the Foundation's investment in the trade fair, "in an event in which the results prove that more wine can be sold, at a better price and in more places".
FENAVIN's President likewise assumed the responsibility of the institution that promotes the fair, which is the Provincial Government of Ciudad Real, "at a time when the sector's alarms are sounding, we are responding with our help, which in this case comes in the shape of a trade fair".
As explained by Martínez-Guijarro, the Foundation wants to profit from the celebration of FENAVIN in order to make its international promotional campaign for Castilla-La Mancha wines known to all, representing a campaign that "will be a salutary lesson to prove that we have an extraordinary capacity for production and a great product", reminding us that we must add the good commercialization system "and, of course, promotion, which is precisely the point in which we want to help the wineries".
The Minister was also convinced that FENAVIN "is a great event, the ideal instrument to unblock the crisis that the sector is enduring" and thus put on display the first steps that the Foundation is starting to take in this new stage to help Castilian-Manchego wineries in their promotion of wines both within our borders and abroad.