The Director of Sociedade Da Mesa, a subsidiary of Vino Selección, will give a talk at FENAVIN about how to be successful on the Brazilian market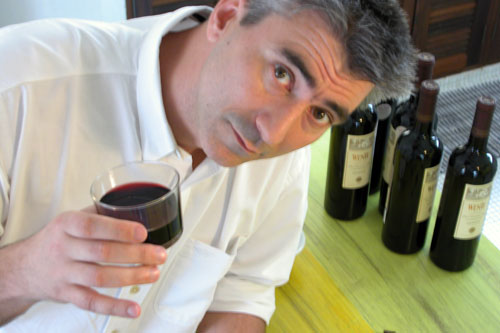 Dario Taibo, Director of Sociedade Da Mesa
From his point of view, "Spanish wine can and should be better known in Brazil," as he will explain during his talk at the fair
13.04.2009 |
Dario Taibo, the Director of Sociedade Da Mesa, the Brazilian subsidiary of the Spanish company Vino Selección, will talk about "Spanish wine's positioning and image in Brazil" at the National Wine Fair, FENAVIN 2009, which will be held between May 5th and 7th at the Ciudad Real Exhibition Center.
During his talk, Taibo will speak about the wine market in Brazil, giving the general outline as regards its size, as well as the outlook and main players who, according to the Brazilian, are the Spanish. He will also briefly look at the development and presence of Spanish wine in Brazil and at exports in the last few years. These, according to Taibo, have been developing "gradually, but their importance is increasing and we need to accelerate this. Exports are growing, but slowly. This slowness is not justified if we consider that Spanish wine is very competitive these days in the international marketplace."
The Director of Sociedade Da Mesa will also talk about the image of Spanish wine, and the perception that the Brazilian consumer has of this country's wines. "Spanish wine could and should be better known. It is a shame that wine-lovers in Brazil are only really familiar with Rioja and Ribera," he says.
Furthermore, he will mention the possibilities offered to exhibiting wineries by Brazil as a market. Finally, he will give some advice to Spain and its wineries in order to raise their profile and be successful on the Brazilian market. The speaker says that Spanish wineries "have good prices and good wines. Trying to promote these would be a good start."
As well as working as a wine club, Sociedade Da Mesa directly imports most of the wines it distributes to members and customers. The club selects European and Latin American wines and publishes a monthly newsletter www.sociedadedamesa.com.br/informativos/.
Dario Taibo is also editor of one of the most popular wine magazines in the country, Sociedade Da Mesa. He is a columnist and contributor to many Brazilian and international publications about wine, and a frequent guest on the tasting panels of international wine competitions. Taibo is author of the book About wine, men and the art of drinking and is editor of Brazil's first podcast about wine. He organizes courses for both wine-lovers and professional sommeliers.