The wineries present at FENAVIN have already begun to arrange their meeting agendas to make the most of the latest research into the world of wine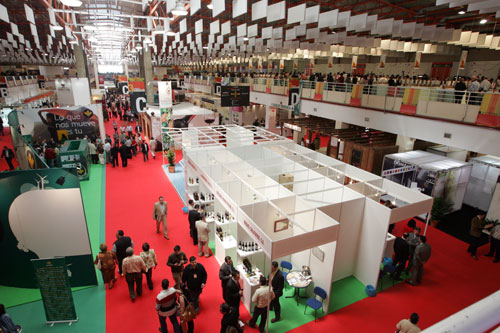 Since last Tuesday, April 7th, it is possible to arrange appointments for meetings with UCLM scientists, through the website www.fenavin.com
11.04.2009 |
Winemakers present at the upcoming FENAVIN, the National Wine Fair, to be held in Ciudad Real between May 5th and 7th, can now arrange, depending on their interests, appointments with researchers from the University of Castile La Mancha (UCLM). They can do so by means of Company-University Brokerage Events, as established in an agreement signed between the two institutions a few weeks ago.
Since Tuesday April 7th, using the fair's website, www.fenavin.com, and the password provided by the organizers, interested winemakers have been able to choose both the subject and which researchers to deal with regarding their queries. They can also make use of the latest research to optimize, for example, fermentation or bottling processes. Using the website, it is possible to request an appointment from the appropriate researchers, following the instructions on that website in a simple, dynamic way.
From the best growing techniques to the optimization of the use of e-commerce
Among the subjects that Spanish winemakers can find out more about, within the scientific-technical range offered by UCLM, are: "The influence of growing techniques on grape quality, particularly in aromatic and phenolic compounds"; "Adaptation of vine varieties: sprouting, flowering, aging and quality wine production"; "Vine zoning and micro-zoning. Soil analysis. Soil-plant-wine quality relationships"; "Pilot study of new fermentation technologies and their effect on wine quality"; "Study of aroma and color compounds influencing the quality of food and drink products like grapes, wines, juices, honeys and spices"; "Sensory analysis of food and drink products with an expert tasting panel and with consumers"; "Selection of yeasts for their use as starter cultures"; "Market and segmentation research (domestic Spanish market and foreign markets), the future for consuming countries and emerging countries" and "Electronic marketing and e-commerce strategies. Internet distribution. Designing and carrying out online communication campaigns. Search-engine positioning." and others.
Ernesto Martínez-Ataz, Rector of UCLM, aware of the innovation involved in a proposal of this kind in Spain, encourages winemakers to take this chance to improve any of the processes necessary to create and sell a great wine. The rector defines FENAVIN as "magnificent" and "a national leader", a fair at which UCLM has organized, as well as the scientific possibilities mentioned, a series of round tables and events "which will certainly strengthen communication between the worlds of university science and wine production" he stated.
These Company-University meetings, internationally known as brokerage events mentioned above, last around 15-20 minutes. These are very popular tools at international trade fairs, since they meet an ever-present need for modernization through technological development. With the organization of these meetings, UCLM puts the university R&D and Innovation groups that work in the industry in contact with winemakers, giving them the chance to establish new contacts and make agreements that can set in motion the technological developments the company needs to resolve current problems and prepare for the future.
The UCLM researchers recommend that their system, with all the details and information, be checked at the event itself. The staff of the Vice-rector of Research's office, through the Industrial Liaison Office (ILO), will be present there. However, the most important thing will be the presence of the researchers with whom it will be possible to find out more about their work and to open up opportunities for new research projects.