Caja Castilla-La Mancha supports the fifth edition of the FENAVIN fair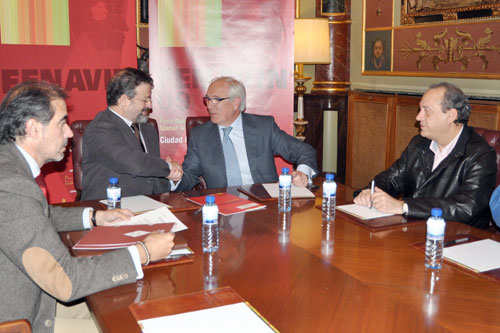 José Antonio Muñoz, Nemesio de Lara, Miguel Ángel Martínez Ortega and Manuel Juliá during the signing of the agreement
Miguel Ángel Martínez Ortega, Deputy Director-General of the CCM, told Nemesio de Lara of the satisfaction of continuing to work with the "most important fair in the Spanish wine industry," during the signing of a partnership agreement with FENAVIN
30.03.2009 |
This morning, the President of the National Wine Fair, FENAVIN, Nemesio de Lara, and CCM's Deputy Director-General, Miguel Ángel Martínez Ortega, signed an agreement by which the financial institution will provide 102,172.10 Euros to the National Wine Fair's organizers in order to contribute to a number of activities connected to the event and regarding information, business creation and the promotion of Spanish wine's new values.
De Lara thanked CCM for its sponsorship of activities related to the National Wine Fair, which is to be held from May 5th to 7th in Ciudad Real where outstanding figures from the world of wine, culture, sports and health will take part in some of the events. It should be remembered that FENAVIN 2009 will count on 1,200 wineries, including those present and represented and that it expects 3,500 national buyers and 2,000 international buyers to come and do business at the show. For these reasons, the organizers expect to exceed 100,000 business transactions.
FENAVIN's president has highlighted the support of Caja Castilla-La Mancha, with a reminder that this institution has backed the National Wine Fair in previous years.
Miguel Ángel Martínez Ortega, who during the signing was accompanied by Basilio Mateo and José Antonio Muñoz, executives of the institution, stressed FENAVIN's important role in the Spanish wine industry, highlighting "the good management and running of the fair." Furthermore, he stated his pleasure regarding his institution's link with such a leading project, an initiative that, according to Martínez Ortega, "has managed to increase the industry's expectations and hopes from the very beginning and, above all else, has been able to create the perfect setting for generating business."