National opinion leaders show their respect for FENAVIN, defining it as "the great showcase for Spanish wine"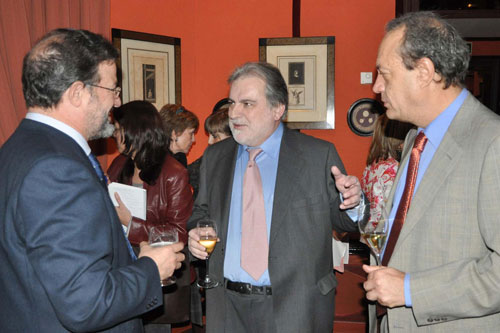 Nemesio de Lara, Luis Mariñas and Manuel Julía during the event held at Madrid's Zalacaín restaurant
Forty-five journalists and many figures from the world of Spanish culture found out the latest details about the fifth edition of the National Wine Fair.
26.03.2009 |
Forty-five journalists from the most important Spanish media, both specialist and general, as well as high-profile cultural figures shared their love of wine and respect for FENAVIN this Wednesday in Madrid. Most agreed that the fair, which is held between May 5th and 7th in Ciudad Real, could be defined as "the great showcase for Spanish wine."
The lunch, which took place in the Madrid restaurant Zalacaín, was attended by important media figures, including Luis Mariñas, Luis del Val, Antonio Jiménez, Juan Manuel Bellver, Javier Rioyo, Manuel Torreiglesias, Sergio Sauca and Gonzalo Sol; from the field of culture, like Concha Cuetos, Manuel Galiana and Francisco Valladares; and from the field of wine, like Pau Roca, General Secretary of the Federación Española del Vino (Spanish Wine Federation); Rafael del Rey, General Director of the Observatorio Español del Mercado del Vino (Spanish Wine Market Observatory), Carlos Falcó, Isabel Mijares and the economist Ramon Tamames.
The President of FENAVIN, Nemesio de Lara, its Institutional Coordinator, Ángel Amador, and the fair's Managing Director, Manuel Juliá, accompanied by the Provincial Councilor José Alberto Martín-Toledano, joined those present in a toast to the smooth-running of a fair which, according to de Lara, "few people believed in at the beginning, but which has become an industry leader." The location chosen, the restaurant Zalacaín, is the same place where the first fair was presented in 2001, and so the event was also something of a celebration.
Practically all of those attending agreed on the National Wine Fair's significance, as a showcase that boost and promote an economic sector that is crucial in Spain. According to them, its importance lies in the fact that Spain is a country that makes excellent wines of great quality that need to be publicized. In this sense they consider that FENAVIN, as the country's only wine trade fair, constitutes a space that is "indispensable and necessary" to make these wines known more widely. This was the opinion of a number of those present, such as the actress Concha Cuetos and the journalist Luis Mariñas.
The journalist Luis del Val spoke of the importance of giving impetus to wine culture by making a fair, FENAVIN, available to sellers and buyers. Antonio Jiménez, from Intereconomía TV, referred to the fact that in Spain wine promotion still has a long way to go, and that FENAVIN can act in this respect "since it gives the rest of the world the opportunity to find out about the quality wines made in this country and their excellent value for money."
The General Secretary of the Spanish Wine Federation, Pau Roca, wanted to make clear that the National Wine Fair "is very important in terms of letting the world know about Spanish wines. It is a meeting place, a place for business and reflection, where the industry's products can be seen and its concerns heard." Roca stated that "a fair specifically for wine has been very welcome; it looks both inwards and outwards." He added that he sees "a great deal of potential in FENAVIN."
During the lunch, everybody tasted three white wines and a red produced in Ciudad Real province and served by the prestigious sommelier Custodio López Zamarra.
The fair's latest figures
The latest figures for FENAVIN 2009, to be held between May 5th and 7th this year, speak for themselves: 1,200 wineries, including those present and represented; 3,500 Spanish buyers and 2,000 foreign buyers, including those invited by the organizers and those who have registered independently, and all this in 29,525 square meters of exhibition space, which represents an increase of 33.39% compared with 2007.
These data mean that the organizers hope to exceed 100,000 business transactions, compared with the more than 70,000 recorded in 2007, with their estimate based on the high number of Spanish and foreign buyers who have registered so far.
The details of the 2009 fair will be announced today at the prestigious Madrid restaurant Zalacaín by the President of FENAVIN and Provincial Government of Ciudad Real, Nemesio de Lara, accompanied by the fair's Institutional Coordinator, Ángel Amador and Managing Director, Manuel Juliá. This fair, a market referential for Spanish wine, will feature wines from all of the country's Designations of Origin.
The fair has therefore grown by 22.69% as regards the number of wineries, compared with the last fair, which was attended by 978. This is a major response from the industry, and evidence of good criteria in terms of the fair's planning, which is very business-focused. This perspective has convinced Spanish wineries and buyers worldwide of the effectiveness of the 'FENAVIN approach.'
In this way, the business expectations created among Spanish wineries and foreign importers are great: this year, as well as national buyers, there will be buyers from 44 countries all over the world.
Furthermore, more than forty parallel activities have been organized with the assistance of other professional associations and organizations from the industry. There will be contributions on wine and sport; wine and health; wine and culture and wine and communication, among others.