Ciudad Real and Castile La Mancha winemakers believe that their wines would not play such an important role at any other national fair, held in another region, as they do at FENAVIN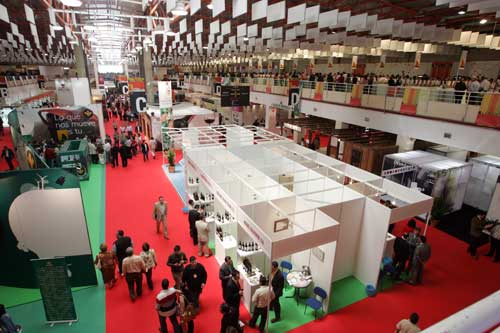 91% of the Ciudad Real wineries that attended FENAVIN 2007 will come back this year, as will 82% of the wineries that came from the rest of Spain
23.03.2009 |
The region's winemakers consider that attending FENAVIN is a guarantee in terms of opening doors to new markets, particularly in an economic situation as complex as today's. Moreover, they are convinced that the region's wines would not have the same relevance at a national fair located anywhere else in Spain.
This is the general feeling of professionals like Rafael Torres, President of the Virgen de las Viñas de Tomelloso Cooperative. To him, this fair is "extraordinary, since it is at the same level as Europe's most important tradeshows. Most wineries in the region have been there, and we have attracted many customers from all over the world, and so the investment made in our stand has not been in vain," concludes Torres.
Ramón Muñoz de Cuerva, co-owner of Bodegas Naranjo, shares this opinion. He points out that his was "one of the first wineries that relied on FENAVIN, and we have not missed a single year, because the results have always been good. The truth is that the industry lacked a fair of this scope in Spain and we are proud of the fact that it is held in our region."
To Muñoz de Cuerva, "holding this event in our province is a privilege, and it involves less work for us, since we do not have to move around." As regards the contacts made during the fair, Muñoz de Cuerva says that "they are becoming stronger year after year" and that "FENAVIN is a true international showcase that we are trying to make the most of."
The figures shown by the fair are clear, with respect to Ciudad Real province and the region in general: 91% of Ciudad Real province's wineries will attend the next National Wine Fair, FENAVIN. It will open on May 5th and, for three days it will be the showcase of Spanish wine, since names from all the designations of origin in the country will be represented there.
Besides, more than 50% of the total exhibition area will be occupied by Castile La Mancha wineries. This year, the exhibition area has grown by 33.39% with the creation of a new pavilion, the Ganímedes, reaching 29,525 square meters. The exhibitors' registration details show that 91% of the Ciudad Real wineries that attended FENAVIN 2007 will repeat the experience in 2009. The same applies to 82% of the wineries from the rest of the country that exhibited in Ciudad Real two years ago. There will also be new wineries at FENAVIN 2009, where 785 companies will be present and some others represented, which means that 1,200 wineries will show their products at the fair.
However, and despite these conclusive figures, reaching business agreements is not always easy and wineries need to work hard to prepare for the event, often well before the fair begins. This is the opinion of Miguel Ángel Castiblanque, Manager of Bodegas y Viñedos Castiblanque and President of Divinum Vitae (Castile La Mancha's Wine Tourism Association).
"We have reached export agreements at the fair that today are still in force. However, in this field everything is achieved through hard work, since the contacts were made in the first year and, after working on them, were finally closed at the third fair; export is a slow process. Obviously, there is much work involved, everybody has to do their work properly back home."
Blas Pardilla, Manager of the Cózar Cooperative, shares this line of thought. For him, "each winery faces the marketing challenge with a lot of enthusiasm, although the company's size and resources are determining factors." In this sense, Pardilla recognizes that his is a medium-sized cooperative "and going abroad is very hard for us; that is why we are open to building links or creating associations with other wineries in order to access new markets, and FENAVIN can help us a lot in this task."
Pardilla also points out that "holding this fair in Ciudad Real is very positive, particularly in this period of crisis; FENAVIN could be a good remedy for it." Besides, the fact that the fair is held in Ciudad Real means, "not only that we can go back home to sleep after a hard day's work but also that customers can visit our winery."
As for this year's expectations, most of the wineries asked expressed well-founded hopes of making new contacts, particularly medium and small companies, "especially abroad because the industry is saturated and we are attending with the expectation of meeting new contacts," states Pardilla.
However, large companies such as Bodegas J. García Carrión can also benefit greatly from FENAVIN, according to Teresa Sancho, Product Manager at Bodegas J. García Carrión. She considers FENAVIN "the main fair in the Spanish wine industry and, therefore, a model for all the wine producing and selling companies, particularly for those with presence in Castile La Mancha." The contacts made at previous fairs "have been vital to our company, allowing us to continue growing and our wines to have greater presence around the world." In fact, this year they are attending the fair with the same expectations as in 2007: "To open our doors to new buyers, reach new agreements and make our wines, which are a guarantee of quality at a good price, known to everybody."
Sancho also believes that for Ciudad Real wineries, the fact that the fair is held here means "that La Mancha and Spanish wines have a unique showcase to the whole world."
Ramón Alcarazo, the person in charge of another of the province's "large" companies, the Jesús del Perdón Cooperative, is also convinced that "FENAVIN is the perfect place for us to publicize the products of the province's main production sector, since it is the perfect framework to promote and present the wines as well as to make wineries aware of the fact that the marketing and internationalization of their products are essential."
According to him, "despite today's serious economic and financial crisis, we have to use this event to promote our wines, present new products and contact customers and new markets." In fact, this winery recognizes that its attendance at FENAVIN has helped it improve its presence abroad, being currently present in 15 countries.
David Tendero, Manager of the Nuestra Señora de la Paz Cooperative, in Villarta de San Juan, states that "FENAVIN means a lot for the province. Something like this had been necessary for a long time and it is now consolidated, since it has become a national leader."
Tendero states that his company's customer portfolio grew during the fair and its sales have gradually grown in the years it has been taking part at the fair.
Jesús Cantarero: "At a fair held in another region, our wines would not be as important as at FENAVIN"
Bodegas Fontana, located in Fuente de Pedro Naharro, Cuenca, part of the Uclés Designation of Origin, was one of the first wineries to commit to the fair and "we have not missed it since then, having very good results," states its proprietor, Jesús Cantarero.
To him, "FENAVIN has established itself at a national level, when many others failed to do so before. It has done this thanks to its professional approach. Besides, in another region our wines would not have as much importance as here and there would not be so much care for them, and this is vital."
This winery, which this year is particularly interested in the Asian market, considers that the importers who have come over the years "have been very well chosen, since they have the quality and size necessary to provide guarantees."
For his part, Paulino García de la Camacha, from the Los Pozos Cooperative in Daimiel, also thinks highly of the fair. He considers it "a worldwide model, very important for the Spanish wine industry in general and that of La Mancha in particular. It is a major cultural, promotional and financial showcase in the world of wine."
As for his opinion about the fair being held in Ciudad Real, he believes that "it is understandable that it is celebrated in this province, since we are the main producers in Castile La Mancha and Spain's most productive region; therefore, it is logical that our wineries have this support."
As regards the role FENAVIN has played over the last few years in terms of their growth, de la Camacha recognizes that the fair has helped them to be better known, although "a challenge for us is distribution; however, it has clearly helped us to publicize our image beyond what would have been possible without the fair."