"FENAVIN is an excellent way of opening the Romanian market doors to Spanish wines"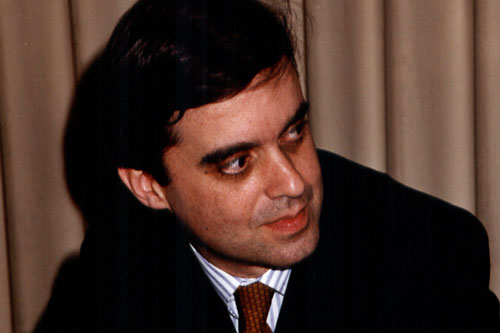 Juan Pablo García-Berdoy, Spain's ambassador in Romania, believes that there are several factors favoring Spanish wines: the long tradition of wine consumption in the country; its strong economic growth and the absence of wines with a good quality/price relationship.
01.03.2009 |
"Romania boasts a long tradition of wine consumption and, right in this moment, the presence of Spanish wines there is rather scarce. That is the reason why FENAVIN is an excellent way of opening the Romanian market doors to Spanish wines".
This is what Juan Pablo García-Berdoy, Spain's ambassador in Romania, categorically claims on the possibilities of Spanish wines within the market of one of EU's most recent members and of how important it is that the Spanish cellars, mainly those in Castilla-La Mancha, get a good grip on this emerging market.
Romania is living an authentic expansion period that the 8% figures concerning the important economic growth recorded in the year 2008 clearly prove and which are a value well over the rest of the EU countries, that are being badly affected by the crisis. Besides, it has to be born in mind that the European Union has assigned over 30,000 m. euros to the country up to 2013 as structural and cohesion funds.
"It is a good moment to place your stakes on the Romanian market"
For this reason, he believes it is a good moment to place the stakes on a country "fond of Spanish wines, precisely because there is an important Romanian community in Spain. Furthermore -he adds-, the traditions from Spain that they take back to their country are fundamental per se, and the consumption of good wine and cheese could be a good example among these".
The truth is that in this moment, the presence in Romania of large retailers of the same chains present in Spain, such as Carrefour, make "supermarket shelve space bear much similitude" and Spanish wines are being increasingly seen, but as yet, they are all Ribera de Duero, Rioja or Priotrat wines "and at very high prices", he adds.
Regarding this issue, García-Berdoy feels confident that "the great balance between quality and price of wines the likes of, for instance those from Castilla-La Mancha, may offer a great opportunity to meet the need of enjoying quality wines at good prices as, it is a fact that Romania is a great wine producer and after the arrival of French, Italian and Spanish winemakers, very interesting products are being made there. However, in this moment, these wines turn out to be expensive for Romanians: there's the opportunity".
Besides, the ambassador emphasizes that "the economic growth being experienced by Romania allows its citizens to gradually invest more and more in treats such as wine, although it is also true that second to Bulgaria, it is the EU country with the lowest per capita income, a circumstance to be taken into account".
In any case, and although he admits that in 2009 the crisis will also reach the seventh most populated country of the 27 that make up the European entente, "the truth is that, as regards Spanish wines, it is a great moment to set out on this path by improving the distribution of our wines in Romania".
Finally, the ambassador anticipated the possibility that some important Romanian wine distributors attend FENAVIN, although there was no confirmation as to whom. All and all, he recommended the Spanish winemakers and dealers to "make an effort to penetrate this interesting market with personnel qualified for this goal: work must be done on the commercial area".
In this regard, Daniel Comanita, FENAVIN's delegate in Romania, is highly satisfied of the way in which the contacts with the great Romanian distributors are going, as some of these distributors will attend the Fair, a fact proved by the great interest shown over this important Spanish wine trade fair.