Pau Roca, Secretary General of the FEV (Spanish Wine Federation): "The Spanish wine sector is in need of a national trade fair and FENAVIN is the one"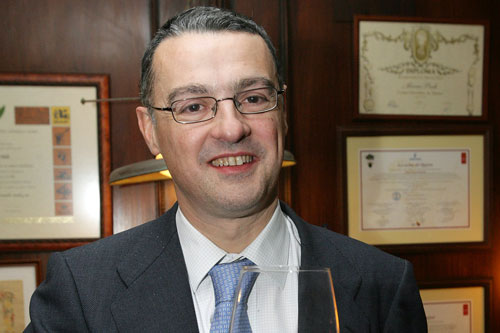 Pau Roca, Secretary General of the FEV (Spanish Wine Federation)
During a meeting held with the Managing Director of the Trade Fair, Manuel Juliá, Roca announced the signing of an agreement with FENAVIN in order to provide the definitive driving force to promote moderate consumption of wine in Spain
15.02.2009 |
Back in the year 2000, Pau Roca, main representative of the Spanish Wine Federation, seemed to be somewhat skeptical when he was presented with the 'road map' of the National Trade Fair on Wine, FENAVIN. Now, nine years later, Roca has turned into a true believer of the virtues of a trade fair that he defines as what "the Spanish wine sector was needing", with this confidence he now has being ratified in the upcoming dates with the signing of an agreement with the trade fair organization to start one of the great battles that the sector must confront: the driving force to promote moderate consumption of wine as a solution to a public health problem such as alcoholism and, while they are at it, the beginning of the recuperation of the domestic market which was frankly in decline.
During a meeting that Pau Roca held a few days ago in Ciudad Real with Manuel Juliá, Managing Director of the Trade Fair, he considered and evaluated the good perspectives for the fifth edition of FENAVIN, apart from going over the different threats that lie in wait for the wine sector.
1. Sincerely, what did you think about FENAVIN when you were told about it the first time?
When Manuel Juliá spoke to me about the trade fair, the first thing I thought was that there were too many trade fairs, which meant enormous competition. I honestly thought it would just be a local thing, a market stall, a flea market...
2. After four editions, and with the fifth trade fair about to start, what are your thoughts now?
The truth of the matter is that the wine sector was in need of a Spanish Wine Trade Fair; even more so, each country should have its own national trade fair, and FENAVIN is ours. At the Spanish Wine Federation we are certainly wagering on this trade fair.
3. What are the main challenges of the wine sector in this unfavorable economic climate?
Consumption is the main problem, because 18 liters per capita and year is practically nothing. We are a highly producing country in which consumption is at a minimum.
Another of our main problems is the attacks we suffer due to the health policy, as wine seems to be framed within the same parameters as other alcoholic drinks. And wine has its own response to the problem involved with alcohol. In fact, FENAVIN could be the ideal, neutral platform, the perfect showcase to launch the message that wine should be consumed in moderation and that the only way it can actually be enjoyed is in moderation.

4. It is precisely along this line of promoting moderate consumption of wine that the Spanish Wine Federation presented the Code of Advertising Practice for the wine sector just a few weeks ago. What has the reaction been amongst the wineries?
In order to launch this message we have designed a Program for Consumption of Wine in Moderation, which has three segments: a Wine Information Board, which is a great scientific platform that really makes the merits of this moderate consumption more than evident; another part resides in the European communication standards, messages of moderation (specifically, the chosen slogan is "Wine can only be enjoyed in moderation") and a company code of conduct over commercial communication, which is what the Protocol you mention is in search of. And, thirdly, in a sector with so many actors and organizations, there is an educational program on consumption and all that is involved, which obligates us to establish many pacts and agreements, which will be started at FENAVIN, so that nobody will feel that they are being stepped on, because it in fact provides us with the neutral space that we need.
I think that it is important to start closing agreements at a great scale and the first one we will close will be with this trade fair, which, I insist, offers us a virtual space, an enveloping feeling from which it is possible to reach other types of commitments without having to be in an actual well defined physical or territorial space. It is Ciudad Real, but it is a national frame. Thus, wine can be a solution to the social problems generated by alcohol and this is a message we can send from Ciudad Real.

Altogether these commitments should find formulas to re-launch consumption in Spain and provide a solution to the public health policies.
5. Talking about FENAVIN, which are its fundamental challenges in this edition?
It has to continue providing good results to a system that presupposes a fantastic service for both business ends: on the one hand, the purchasers, as they are offered something that is attractive and, on the other, the vendors are coming in, because otherwise they would miss it. Already FENAVIN can be considered a trade fair with an extensive trajectory. We are fed up with international trade shows, which are now so 'monstrous' that people are unable to find each other and the only thing being sold are square meters.
FENAVIN is very comfortable, very close to Madrid, there is an airport... it's a fair that is right here, but it could be anywhere else, and it is very attractive because it is not congested. If the right people are there, what do we need anything else for?

6. What advice would you give those who will be participating in FENAVIN 2009?
That they have suitable people at the stand, so that decision taking can take place right there, thus avoiding the purchaser from being disappointed because the only person they encounter is a hostess. This is the ideal occasion to talk about the future, about commitments. There must be people available who have capacity to decide.
7. Now let's talk about figures. What are your considerations on the sharp decline in wine spending in restaurants, which stands at more than 6% in the year 2008? This information is from the Spanish Wine Market Observatory.
Well, of course, that is one more negative piece of information of the tendency that is being seen. In this case it is a substitution from consumption in restaurants to domestic consumption. It is the restaurants with higher quality and prices that are suffering this tendency. The fact is that we are in very bad shape in Spain, and the only thing that seems to be holding on a bit is consumption in the food channel.
8. Exports of Spanish wine increased, 15% in value and 18% in volume, during the first seven months of 2008, although this tendency started slowing down towards the closing of the year. That is to say, these are good figures, but don't you think maybe we are committing too much to selling wine abroad and we are forgetting to promote domestic consumption and sales? The truth is that Castilla-La Mancha wines do not have much of a presence on the Spanish market.
We must recuperate the domestic market and it is ludicrous that its domestic level is so low when almost 60 million tourists are visiting Spain every year. If we discount this figure, then domestic consumption would really be ridiculous. Objectively speaking, our consumption should not be this low. On the other hand, countries that suffer domestic consumption that is not very demanding in horticultural products, such as Belgium or Holland, have actually been the best in exporting. They have been the first to come awake, because their own market did not suffice. To be severely affected by the domestic market presupposes a stimulus, and this has allowed Spain to go abroad with better chances. We are good exporters and we will continue to be, but the time has now come to see that Spain is an interesting market as an objective, under the same terms that an export market can be. We have to make the same effort we are making with the rest of countries, but we have to do it with Spain. We are going to promote a change in our domestic consumption with good distribution, by collaborating with all sorts of institutions so we can start educating the new generations in moderate, healthy consumption, with a series of behavioral guidelines that will also be a guaranty so that the tremendous problem involved with alcohol can be resolved as of adequate consumption of wine. This is a challenge and it is also provocative, but at the same time I also believe that it is the only way to change the situation.
Altogether, the increase in consumption of wine depends on a solution to the problem of alcohol, binge drinking (botellon), weekend consumption... the solution does not reside in prohibition, but in consuming wine with reasonable and intelligent guidelines. Perhaps we will have to return to smaller doses of spirituous drinks or make beer more contained. I consider that there has been a problem in the promotion of alcoholic beverages, as they have gone overboard, because the target group has been far too young, with a product that was disguised with refreshing beverages.
9. And how do you imagine the sector within a period of four years, that is, with the measures proposed in the new CMO (Common Market Organization) already 'tested and tried'?
I consider that it will be very well positioned: it has brands, companies of a certain dimension, it has a consolidation process... We have to see how sales of Domecq Wines evolve: who will finally buy the greatest Spanish wine company? I consider that we have more possibilities than France, more corporate capacity, strengths, in short, that we be differentiated with regards to the rest of European productions. We are a hybrid between the countries of the new world and the tradition of European wines.