From Iceland to Angola, FENAVIN 'sells' its successful system for doing business in 44 countries around the world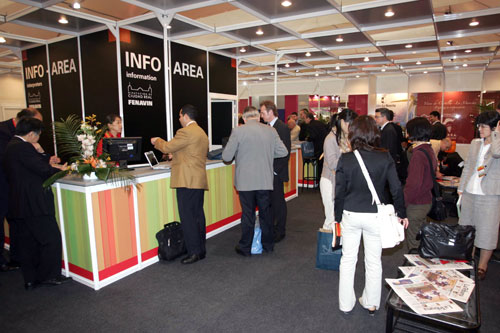 Business Center FENAVIN 2007
The number of delegates at the National Trade Fair on Wine has grown from the 29 that worked at the 2007 edition to the 44 that will be present at the upcoming edition, with a well-researched balance between emerging markets and consolidated markets
27.11.2008 |
The National Trade Fair on Wine, FENAVIN, has extended its network of delegates throughout the world, bringing into this fifth edition, which will be taking place on the upcoming dates of May 5th to the 7th, purchasers from 44 countries, amongst which are to be found both consolidated markets and emerging markets.
FENAVIN's commercial delegates in Germany, Austria, Japan, Mexico, Belgium, Holland, Luxemburg, Estonia, Latvia, Lithuania, Finland, Denmark, Sweden, Iceland, Poland, Portugal, United Kingdom, Czech Republic, Dominican Republic, Singapore, Switzerland, Turkey, Brazil, United States, China, Philippines, Taiwan, Hong Kong, Canada, India, Russia, El Salvador, United Arab Emirates, Angola, Columbia, South Korea, Israel, Puerto Rico, Vietnam, Malaysia, Ukraine, Ecuador, Kazakhstan and Romania are the ones in charge of contacting with purchasers in these markets and informing them on how to optimize their presence in Ciudad Real on the upcoming month of May.
According to how they all coincide in their opinion, the general perception that the importers have is a very positive one, given that they have seen that the system created by FENAVIN to facilitate business actually works and that very truly satisfactory contacts can indeed take place.
As an example, Germany is one of the markets in which the purchasers' reaction has been the quickest, as already fifteen companies have shown their interest in visiting the trade fair. Three of these companies are large importers that invoice more than 25 Million Euros on an annual basis, this as stated by the trade fair delegate in the German country, Bárbara Wehowsky.
"FENAVIN offers the perfect frame to become acquainted with the consumer tendencies"
The delegate in the Northern Countries, Katarina Holmér, also highlights the importers' receptivity, "given that FENAVIN offers the perfect frame to really obtain in-depth knowledge of what the consumer tendencies are in such a disparate market". In fact, the greatest purchaser of Spanish wines in Sweden has already confirmed its presence at the trade fair, Holmér points out. "Being present at FENAVIN as an exhibitor is the perfect opportunity to open up the market, and not only to the Northern Countries but also to the Baltic Countries, towards which Sweden, Norway, Denmark and Finland are starting to extend their commercial networks" she highlights.
On his part, Enrique Quirós, Delegate in Belgium, Holland, and Luxemburg, points out that "importers already acknowledge FENAVIN as the trade fair of reference of Spain's wine". Thus, amongst others, we already have confirmation from Louis Havaux from Belgium, renowned journalist and organizer of trade fairs and wine events, such as the Brussels Worldwide Wine Competition, who indeed represents a personality in the world of wine in Belgium and France.
On the other hand, likewise present at the Trade Fair we will have Luxemburg's importer of reference, José Castro, from the "La Rioja Sarl" Company, who is "thrilled about this visit, which to date had been impossible for him due to his busy schedule".
De Lara: "We want to open the doors to new markets for our wines"
In this respect, Nemesio de Lara, President of the Trade Fair, assures that one of the organization's fundamental objectives is to precisely "open the doors to new markets for our wines". For this the National Trade Fair on Wine continues to increase its capacity to generate business, as is proven by the fact that to date 609 wineries have already registered and that, on the other hand, the number of countries that have been invited has increased in 51%.
"With five months to go before the trade fair starts, the number of importers that wish to participate at FENAVIN already constitutes a very important group, surpassing that of other years by these dates, therefore, our expectations are very good for this edition", concludes de Lara.
It is to be highlighted that FENAVIN's organization, which works in coordinated fashion with the Ciudad Real Chamber of Commerce and the Castilla-La Mancha Foreign Promotion Institute (IPEX), during the 2007 edition managed to increase the number of commercial contacts in 300 percent, this given that 70,175 contacts were recorded, as opposed to the 21,369 contacts that were counted in the 2005 edition.