70,175 commercial contacts have taken place at FENAVIN, 300% more than last year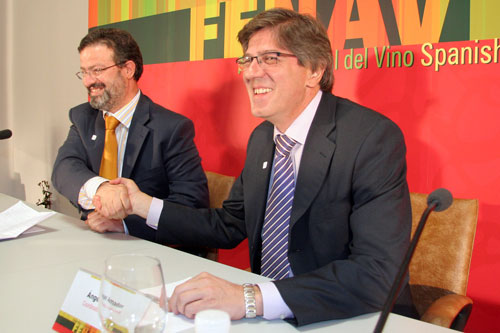 The Wine Gallery has received the visit of 8000 professionals, and 1157 international purchasers and another 1650 national purchasers have all come together at the trade fair
10.05.2007 |
The National Trade Fair on Wine (FENAVIN) has closed its doors today with an increase of 300 percent in that pertaining to commercial contacts, given that 70,175 contacts have taken place in comparison with the 21,369 that were recorded in the 2005 edition. This has been the positive outcome that FENAVIN's President, Nemesio de Lara, has made known, the same accompanied by Ángel Amador, the event's Institutional Coordinator.
"He who sows bountifully will reap bountifully, and we are now harvesting an excellent crop", said De Lara, who added that 58,459 guests have visited the Ciudad Real Trade Fair grounds, 22,000 more than in 2005, and almost 11,200 exhibitors have been present, along with 1157 international purchasers and another 1650 national purchasers, representing total figures that have by far surpassed the initial estimates.
De Lara has also mentioned that 941 brands, corresponding to 375 wineries have been on display, with 8000 professionals visiting the facilities, which have remained open every morning. Concerning the Wine Gallery, he has mentioned that Subhash Arora, President of the Delhi Wine Club and prestigious Hindu expert of acclaimed influence, has assured that this is by far the best trade fair he has ever seen in the world.
On the other hand, the trade fair's website has received an average of 3000 daily visits, from 50 countries, highlighting in order of hits Spain, United States, Germany, United Kingdom, Sweden, France, Holland, Mexico, Denmark, Belgium, Norway, etc. In addition, the on-line information points distributed throughout FENAVIN have recorded an average of 1000 daily visits.
He also commented that a total of 38 companies have provided their services at FENAVIN, of which 33 are from the region, practically all from Ciudad Real and another five are from Madrid.
He added that 47 different activities have been hosted, which only yesterday counted with an audience of 1361 persons and 111 lecturers. "It must be taken into consideration that many of the round tables have counted with up to eight or nine lecturers", commented De Lara, who has also made reference to the hospital facility that we have set-up, which fortunately has not registered any serious incidents, save a few allergies, scrapes or administering of a few tablets of Paracetamol.
"Right now we are finishing-up the surveys to obtain the level of satisfaction of the exhibitors", De Lara mentioned, assuring that the results will later be made known, although if we have to go on what we have seen these last four days, FENAVIN has once again enjoyed a resounding success. The best way we have to judge this affair is with what we have been hearing from the wine makers themselves, the exhibitors and cooperativists. Many people have commented today that FENAVIN is already the best continental trade fair that exists in that pertaining to organization and business. On the other hand, comments such as, FENAVIN is the best and in comparison with other trade fairs in the world, the very best commercial contacts take place here. Or, this is where the entire sector wants to be", he commented, to then add that "on the evening of the Award Ceremony to 'A Lifetime Dedicated to Wine' ,very significant people told me that in that referring to business, they by far prefer FENAVIN to ALIMENTARIA".
In another order of things, De Lara has wanted to make it quite clear that the National Trade Fair on Wine that the Ciudad Real Provincial Government sponsors is a "very professional" exhibition event. Notwithstanding, he has warned that "we do not want to compete with any trade fair that is involved in the scope of the sector, we do not want to be competitors. All of us together are intervening to improve the sector, because it needs to be improved. To compare is human, but we must not forget that it is good that many trade fairs and festivals exist so that the world of wine will continue to develop".
According to De Lara, another positive factor of the trade fair "is that the province's capital is now on the map thanks to FENAVIN, appearing in the best magazines in the world, with the very best professionals singing its praises. And of course this is also a reason for great satisfaction." He has highlighted that he is not only grateful to the wine sector for celebrating the trade fair, but also to many others that will also be benefited by the fair, such as the restaurant trade, the small stores and tourism in the capital and region.
"Thanks to FENAVIN, ESPAÑA ORIGINAL and Fercatur we can come to the immediate and clear conclusion that these three trade fairs, on their own, isolated or together, are conclusive, efficient and reliable proof that Ciudad Real as a capital can indeed become a recognized and refined city of congresses. In addition, the province will undoubtedly become one of Spain's and the world's distinguished provinces as a venue for congresses. This is an element that is now part of this, our land's, social-economic potential, and for which as politicians we are working as hard as we can", assured the President of the National Trade Fair on Wine.
COMMON MARKET ORGANIZATION OF WINE
In the opinion of De Lara FENAVIN has also served to make it quite clear that the Common Market Organization "must represent a challenge, uniting all of us in the sector". He considers that the new document that is to see the light in July should not champion removal of vines, turning the wine sector into a sort of scrap yard. "The vine and grape cannot become scrap simply to relieve the sector's problems" he sentenced.
He likewise affirmed that the trade fair has been useful to understand that public investments in promotion, modernization and commercialization produce excellent results. "We have been able to see that the expectations we have in our commercializing or exporter potential are well founded. I believe there is a foundation behind our commercialization expectations, however we have to work hard and provide more resources", he explained.
Another conclusion pointed out by De Lara was the one referring to the introduction of policies that stimulate consumption in the younger generation. Moreover, that moderate consumption of wine is not and under no concept whatsoever should ever be cataloged in identical or even analog fashion with other alcoholic or alcohol derived beverages in any preventative legislation aimed at avoiding risks when driving. "I am talking about moderate consumption of wine, not vast amounts, as others have said, thus resuscitating an unnecessary debate", he added.
He has thanked the entire FENAVIN organization team for their effort and he has highlighted the work of the trade fair's Director, Manuel Juliá, mentioning that "he sincerely hopes he will soon be feeling better". For De Lara this trade fair "proves that when one aims for the impossible, miracles such as FENAVIN can be attained. What we are seeing here is a consequence of many hours of work, many days and many years of fighting against unexpected tempests and against people with little faith. When one believes in what one does and the sector is behind one, when conviction this is felt deep inside, then things are easier and with much work and good planning the ship always reaches its port".