FENAVIN hosted the presentation of CEVINUM, Corporate Wine Consortium of Spain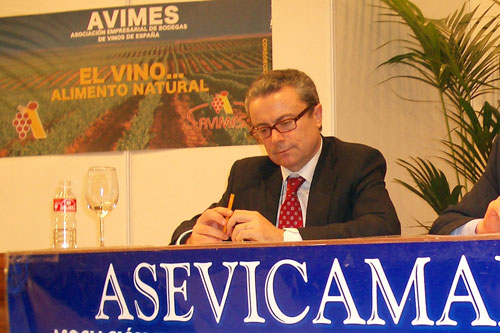 CEVIMUM also presents its studies in developed R & D and Innovation
10.05.2007 |
The structure of the Corporate Wine Consortium of Spain, CEVINUM, has been presented at the 4th National Trade Fair on Wine, FENAVIN 2007. CEVINUM gathers together Wines of Spain (AVIMES), Musts and Grape Juices of Spain (AEMZU), "Musts, Wines and Related Products of Castilla-La Mancha (ASEVICAMAN) and Vinegars of Spain (Spanish Vinegar Association-AEV).
According to Rafael Puyó, CEVINUM's Secretary General, "CEVINUM represents these companies' instrument for negotiation with the regional, state and European governments". This consortium was created in 2006 to combine all the singularities of each Spanish wine product in grouped fashion, and the result is that it is a very efficient interlocutor at all governmental levels and with the rest of sector branches.
The R & D and Innovation studies that the Consortium and its different national and regional associations have carried out up until 2007 have also been presented at FENAVIN 2007.
Amongst these to be highlighted are: "'Development of a swift metering system of the coloring potential of red grapes upon reception at the winery", "Study, design and diffusion of an integrated traceability system for identification, monitoring and localization of wines protected under the 'Vinos de la Tierra de España' brand". Other studies to mention are "Study for optimization of production, elaboration and commercialization of musts and wine grape juices", "Study of the markets and exporting objectives of Spanish vinegars", "Study for the establishment of optimal 'storing periods' ('Crianza', Reserva and Gran reserva) for wines with denomination of origin elaborated and stored in the territory of Castilla-La Mancha", etc., etc.
The General Board Meetings of AVIMES and ASEVICAMAN also took place at FENAVIN.