The return of bread, wine and sugar for the afternoon snack as an element of our childhood culture is demanded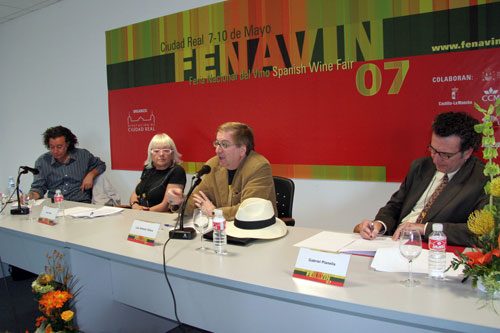 Journalist Nuria Ribó at the chat-encounter "Memory of Wine", along with Writers Luis Antonio de Villena, Dionisio Cañas and Gabriel Planelles
09.05.2007 |
At the chat-encounter "Memory of Wine" the Journalist and Writer Nuria Ribó demanded the return of bread, wine and sugar as a cultural element. Gabriel Planelles, Poet and Deputy Director General of the book El Libro de la Generalitat de Cataluña; and Luis Antonio de Villena, Poet, Essayist and Literary Reviewer also participated in the chat, the same under the coordination of Dionisio Cañas, Writer from Castilla-La Mancha but also an adopted New Yorker.
Dionisio Cañas spoke about "his childhood memories in his native town of Tomelloso (Ciudad Real), and about a time when all houses had cellars, with homemade wine for daily consumption". He also recalled how he met his colleagues at the table, which he was in charge of coordinating.
In the Writer's opinion wine is very present in literature written in Spain and abroad. "References to wine are constant in both poetry and prose, although particularly in poetry and, on the other hand, there is a long-standing tradition of poets and writers who enjoy drinking wine. One of the most important Spanish poetry books is called Don de la ebriedad, (Gift of Drunkenness) by Claudio Rodríguez. In this book inebriation is spiritual and physical, and I believe that this is exactly what we are dealing with when drinking wine in a healthy manner: a double experience, a celebration of the body and soul".
On her part, Nuria Ribó referred to her childhood memories about wine, demanding the return of bread, wine and sugar for the afternoon snack. In her capacity as a Journalist, she made an extensive survey amongst people aged 14 to 60 to find out about their preferences in wine and their relationship with wine.
She deplores the prohibition that wine has suffered, which she considers has directly led many young people to drinking 'calimocho' (half wine/half cola-based soft drink) or rum and coke and the like, without ever having had a relationship with wine. "I have carried out a series of surveys amongst very different people, from different origins. And the initial conclusion is that there are great differences between the younger generation and adults (40/50), thus their culture of wine is diverse, although with time the younger generation also approaches the world of wine", she explained.
The Journalist assured that, "despite not being an expert, as a reader I do indeed consider that the culture of wine is being extensively and excellently communicated. However, for those not initiated in this world there could be a lack of general information".
DE VILLENA: EDUCATION FOR THE CONSUMER AND NO PROHIBITION
The Poet Luis Antonio de Villena referred to wine as "the joy of living"". Wine has always been synonymous of joy, of pleasure, an important element given that already in the Greek world it was cultivated", he assured. Villena then continued with a brief summary of literature and wine.
The Madrid born Poet reviewed the long journey between the world of wine and literature. "Wine has always represented joy and pleasure", he repeated. "Towards the end of the 19th Century wine was considered a negative thing, given that it was mixed with other alcoholic drinks. In this sense a series of contradictory aspects arose", he commented. He then recalled how already in the Bible wine is mentioned from a Semitic origin.
The Poet, regular consumer of wine with his meals, asserted, "wine always requires a touch of control. Although the prohibitionist eagerness should be avoided. We should not forbid its consumption, but in fact we should educate the consumer. Consumption of wine should be stimulated. Prohibition is never a solution".
PLANELLES: THIRST FOR WATER IS PRIMITIVE; THIRST FOR WINE IS CULTURE
The Poet and Deputy Director General of the book El Libro de la Generalitat de Cataluña, Gabriel Planella assured that "in Spain there is a specialized media in quality wine, in particular when dealing with written press. On the other hand, in audiovisual means there is much talk about cooking, although hardly any about the world of wine, and we forget that one added to the other form a tandem that is impossible to separate".
He likewise assured that "despite the fact that wine does not hold the starring role, except occasionally, wine is indeed a thematic ingredient in most literary works. This is indeed true of western literature, from its very beginnings. Greek and classic Latin writers are paradigmatic of this".
Paraphrasing the writer Manuel Vázquez Montalban, he indicated that "thirst for water is primitive, while thirst for wine is culture".