Bodegas Fontana has hosted a commented tasting sessions of their best wines at FENAVIN: Quercus, Fontal, Dueto and Mistero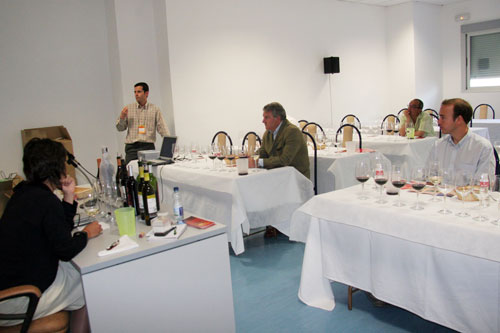 09.05.2007 |
Bodegas Fontana hosted a tasting session at the 4th National Trade Fair on Wine, FENAVIN 2007, which was directed by the Enologist Rodrigo Espinosa. The Castilian-Manchego Winery, pioneer in their wager on high range wines with their prestigious "Quercus", also put on display their 'Fontal White' a 2006 Verdejo, Sauvignon White; '2006 Mistero Joven'; '2004 Fontal Crianza'; '2003 Dueto' and '2003 Quercus'.
Rodrigo Espinosa made it quite clear that the quality of their wines is based on a gamble on their own vineyard and on the important investigation work that has been carried out.
There is no doubt that this investigation, based on adapting to the most trendy of consumers with the introduction of their Fontal in half-liter bottles for high range restaurants, and the carefully designed corporate image and label, will be putting the Fontana Winery at the vanguard of Spain.