THE CHINESE ARE ENTHUSIASTIC ABOUT RED WINE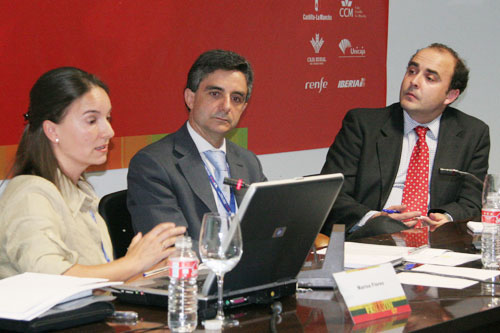 Marisa Flores, IPEX Delegate in Hong Kong and Félix Solís Ramos had a full house during their chat, in which they revealed the keys for exporting wines to the Asian giant
08.05.2007 |
More than 250 million Chinese have emerged from poverty in the last 30 years, given that their income level has improved and how, thus turning them into very attractive potential consumers, according to Marisa Flores, Delegate of the Foreign Promotion Institute (IPEX) of Castilla-La Mancha. The chat took place this afternoon at Fenavin 2007, the same with Félix Solís Ramos, during which it was confirmed that the Chinese like red wine, that they consider it a healthy food product, that they consider it a good gift and a symbol of image and status. China is awakening much interest at FENAVIN, and proof of this is that the conference hall was full to the brim during the chat, which was presented by IPEX's Director Javier Vega.
There is no doubt that the Chinese market is currently one of the most sought after. Its peculiar, yet constant rapprochement to a sort of consumer society and the impressive number of its population are turning it into the preferential destination for all types of investments. As a mere anecdote, it should be taken into account that there are already more than 20 million multimillionaires in China.
However, as warned by Marisa Flores, it is also "one of the most unknown and mythicized markets". The Delegate in Hong Kong for IPEX (Castilla-La Mancha Foreign Promotion Institute) delivered a very detailed exposition and a realistic analysis of this market, providing the potential wine exporter with relevant information about the business opportunities that exist on the Chinese wine market. The event also included tips on how to interact in commercial dealings with a culture that is so very different from our own.
In the first place Marisa Flores described the main characteristics of the Chinese market, emphasizing on the demand for wine products and on the numerous associated factors that condition this demand: different types of sales points, most habitual tastes amongst the diverse consumer profiles, tendencies that are being consolidated…
In the year 2005 on the wholesale market Spain sold 52% of the Chinese market, yet in 2006 it was displaced by Chile.
The forecast for growth of bottled wine in China is about an annual 9% until the year 2009, in such a manner that 12% will be red wine, which is the one most favored by Chinese citizens; another 6.5% will correspond to white wine, 4% to rosé wine and another 3% to sparkling wines.
Current production corresponds to 90% local and 10% imported wine, taking into account that 63.5% corresponds to red wine and 27.8% to white wine. And of course we must not forget that consumption is still low, given that the average stands at 0.3 liters per person and year in China, while in Spain the figure reaches 26 liters, in France 55 and the global average stands at about 7.5%.
During the second stage of the conference Marisa Flores analyzed the competition, starting with the local Chinese offer and continuing with the main rivals, producer countries from both the Old and New World. During the lecture she also analyzed evolution of wine exports in the last few years, to conclude with an evaluation of the possibilities of penetrating the Chinese wine market, apart from providing a series of practical recommendations aimed at undertaking exporting to the Asian giant, including a warning about the abundance of frauds.
Wine imported by the Chinese, which is 10% of the total consumption, corresponds in 37% to French wine and wines from other countries such as Australia, United States, Italy, Chile or Spain. The varieties that the Chinese like the most are Cabernet, Merlot, Syrah and Pinot Noir in the case of red wines; Chardonnay and Sauvignon Blanc for white wines.
Thus the future of wine in China opens up as natural growth of the market, although with tough price competition.
Félix Solís Ramos, of the company Félix Solís Avantis, explained how his wine company, with headquarters in Castilla-La Mancha, specifically in Valdepeñas, inaugurated a plant in Shanghai with a bottling capacity of an annual 60 million liters. The plant is equipped with the most modern facilities to be found in China, requiring an investment of 5 million Euros and employing 21 persons. They started exporting to China 8 years ago, with the help of Chinese who were residents in Spain at the time.
BARRIERS AGAINST COMPETITION THROUGH EXCLUSIVITY CONTRACTS
The objective of this Castilian-Manchego winery that is already implanted in Valdepeñas, La Mancha, Rioja, Ribera del Duero and Rueda, was to reach the 42% of Chinese that live in cities, because consumption of wine is above all an urban matter, with current consumption surpassing 550 million liters, although mainly of national wine.
Solís made it quite clear that commercialization in China is anything but easy; as there are companies with 5000 workers and sales reaching 30 million liters, which through exclusivity contracts raise tremendous barriers against competition. Thus it is quite common to see wine lists in Chinese restaurants, which is where wine is mainly consumed, that all correspond to a single exclusive company, thus the only path an imported wine can take is to position itself in hypermarkets and foreign chains such as Carrefour, or in bars.