MIGUEL ÁNGEL CALAMA HIGHLIGHTS THE EXCELLENT ORGANIZATION AND SCOPE OF THE NATIONAL TRADE FAIR ON WINE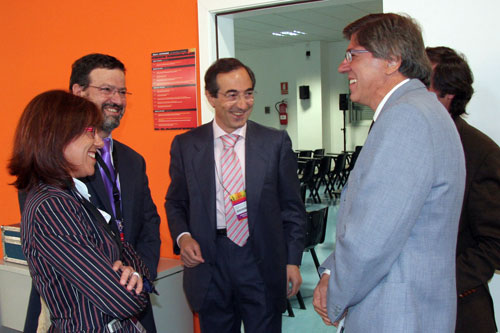 He has offered a conference on the activity that Caja Rural is carrying out in its scope of influence
08.05.2007 |
Today at the National Trade Fair on Wine the Director General of the 'Caja Rural de Ciudad Real', Miguel Ángel Calama, has offered a conference on the activity that this financial institution is carrying out in its scope of influence. At the conference he highlighted the professionalism with which the trade fair has been organized, as well as the tremendous projection and dimension that it has acquired. Calama has had the opportunity to chat with the trade fair's President and with FENAVIN's Institutional Coordinator, Nemesio de Lara and Ángel Amador, respectively, who have welcomed him and thanked him for Caja Rural's support and collaboration.
'Caja Rural de Ciudad Real' forms part of the Caja Rural Group, one of the main banking groups currently operating in Spain, which counts with important financial and asset soundness. The institutions that belong to the Group offer their clients a range of products and services and a quality level that can be perfectly compared to that of the main Spanish banks and savings banks. On a national scale the Caja Rural Group in its whole counts with the greatest business share in the banking sector (15%) and with no less than a fourth part of the branches to be found.
The finality behind Rural Savings Banks is promotion of a financial group of a private nature and cooperative base, which by joining forces and collaborating in a common project, allows improving its structures and organizations and guaranteeing future development of the Spanish cooperative banking system, which in turn benefits its partners and clients.
This is one of the keys of the 'rural savings bank' concept that Miguel Ángel Calama defines as "societies of persons with common interests", highlighting the word 'persons'. Within its scope the 'Caja Rural de Ciudad Real' is a true referent for companies, trade and sectors such as wine, olive oil and cereal, so relevant for the provincial economy, and in which an abundance of small companies is to be found.
Rural Savings Banks in fact work like any other bank or savings bank, although they preferentially first handle their partners. Given that the cooperative nature is one of these institutions' basic pillars, the normal procedure is to first become a partner of the rural savings bank and then a client.
Within the Spanish banking-financial system, apart from competence of rural savings banks with other institutions of a non-cooperative nature, they also act as a modulator for competition, contributing to price stability and raising the levels of quality.
Miguel Ángel Calama categorically asserts that "one of the main objectives behind a rural savings bank and behind Ciudad Real's specifically, is to avoid so-called financial and social exclusion". While banks and savings banks do not establish themselves in municipalities with populations of less than 5000, Rural Savings Banks do. Thus with their presence on the terrain they can support productive development of less favored sectors, also carrying out an obvious social task. This support to the productive economy takes place through promotion on three fronts: talent, knowledge and technology.