Subhash Arora: "exporting to India must involve more than mere business, as a passion for the country must also be felt"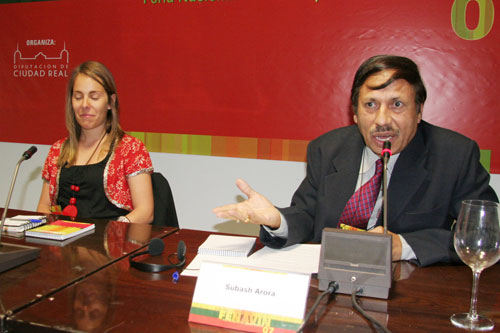 According to the President of the Delhi Wine Club, who insists that there must be perseverance, effort, intensive payment control and a good market analysis
09.05.2007 |
Subhash Arora, President of the Delhi Wine Club, affirmed today during his lecture "The Indian Paradox" at FENAVIN 2007 that exporting to India must involve more than mere business, as a passion for the country must also be felt. The importer must dedicate time and effort to an in-depth market analysis, and there must be much perseverance and intensive control of payments.
Arora explained that "India, with a middle class of 250 million people, has the profile of a consumer that drinks wine as a way of life; although only close to 700,000 actually purchase wine, in comparison with the 200 million liquors they drink".
"Despite an annual growth in surplus of 25% and the fact that the Government announced free imports of wine and alcohols, in the last four years the average Indian has only consumed less than a teaspoon of wine per year. The tariffs that were imposed, locally known as customs rights, amounted to approximately 260% of a bottle, including compensatory duty that marginally favored the most burdened wines", revealed the President of the Delhi Wine Club. That is the Indian Paradox.
He likewise commented, "distribution of wine is in great part dictated by sales, suppressing each state's policies. States do not only prohibit autonomy in the formulation of the policy for wine and alcohol sales, but they also have fiscal power to impose additional tariffs. The 28 states and seven territories that make up the Union operate on an individual level, independently formulating their policies. For example, in Delhi a tariff of 150 Rs per bottle (3 Euros) is imposed on each bottle sold to restaurants, independently of the cost or quality. On the other hand, the distributor must deposit a record of the label with an annual burden of 5,000 - 10,000 Rs (90-180 Euros)".
India has predominantly been a country that did not drink, to the point of even including this principle in the constitution. Despite the fact that the legal age for voting was reduced to 18 a few years ago, the legal age for drinking still continues to be 25, this in a country that consumes 120 million boxes of whisky, vodka, beer and other alcoholic drinks, thus the Indian Paradox", Arora indicated.
He likewise mentioned that "the market is extending in 30% for imported wine and in 35% for domestic wines. In 10 years time the market could be twelve times its current size, reaching 60 million liters, and while tariffs drop, imported wines are halted in order to gain market share". The level of consumption of Indians in luxury articles will favor wine and entering the Indian market will be interesting for Spanish importers if they abide by variables such as the price, which must be reasonable for high quality wines.
Undertaking a profitable commercial mission in India will depend on understanding that it is a long term market, which requires persistence and in which it is recommendable to create alliances with importers so that they will know about our brands, in turn making them known in the country, however, this requires a lengthy amount of time. It is recommendable to have a continued physical presence in the country, participating in commercial trade fairs, without considering the expense they represent; and there must be enthusiasm. In Arora's opinion, "introducing wines in India may just be a golden opportunity, which will not only depend on luck, but also on effort. Above all Arora recommends that importers should try to really enjoy themselves with the process of commercializing in a country such as India.