INNOVATIVE AND TRADITIONAL ANDALUSIAN TAPAS DISPLAY THEIR WONDERFUL BALANCE WITH MONTILLA-MORILES WINES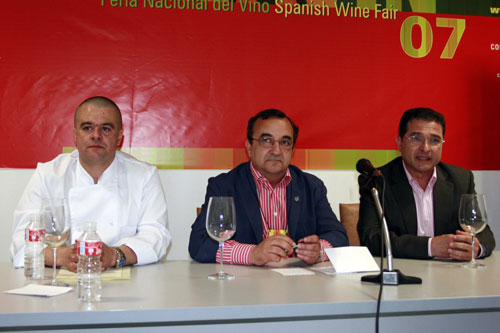 A tasting round table celebrated within the frame of FENAVIN has underlined the marvelous balance to be found in both types of Cordovan cuisine with Andalusia denomination wines
09.05.2007 |
Consecrated cuisine and "signature" cuisine from two acclaimed Cordovan taverns do not compete with each other, but in fact twin-up to accompany Montilla-Moriles denomination of origin wines. This has been the main conclusion reached at the tasting round table 'Wine and Andalusian Tapas', which took place this Wednesday at FENAVIN, the same coordinated by the Secretary General of the Conference of Viticulture Regulation Council of Spain, Manuel López Alejandre, who defined these tapas as "a series of sublime products elaborated with the simplest of ingredients".
"The tavern is and has been a meeting point since time immemorial. Taverns are the pillars of the cuisine of the great restaurants of Cordoba. We owe a lot to the taverns", affirmed López Alejandre at the beginning of the session, while on the other hand explaining that 'amontillado' wines and 'amontillado' 'finos' have such a personality and smelling and tasting capacity that "they can enhance almost anything we can think of, from pickles right through to sweet breads".
Theses wines balance beautifully with the consecrated culinary values of Cordovan tapas, as is the case with 'Salmorejo', 'Revuelto Campero' (fabulous combination of potatoes, baby broad beans, broken fried eggs and strips of ham) or 'Oranges with Cod Fish and Fresh Spring Onions', a dish of Jewish origin. All of them are elaborated at 'Taberna Casa Salinas', a typical Cordovan tavern with a lovely patio and whitewashed walls. "All these dishes pair-up wonderfully with 'montillas' and 'olorosos', explained Manuel Pérez Romera, owner of this tavern that has a history of more than 80 years behind it and meeting point for lovers of bullfighting and flamenco, and a place of pilgrimage to enjoy the greatest wines of the region. A tavern that did not even sell refreshments until ten years ago.
"I cook exactly the same as my grandparents did, with their same recipes, to which I add my own personal touch", commented Pérez Romera, who has wagered on rescuing ancient dishes and adding his own touch of flair to them, "something that can also be considered to be "signature" cuisine".
The other tendency, the more innovative one, has been represented by true delicatessen products such as 'Strawberry Gazpacho', 'Almond Mazamorra with Pedro Ximénez Gelatin', 'Eggplants with Honey' and 'Ham, Shrimp and Cheese Flamenquines', which are all prepared at 'La Abacería', restaurant, located right beside the Cordova Mosque and run by siblings Juan Luis and Blanca Santiago Melero, who wager on more heterodox recipes.
"The matter of culinary innovation is a complicated one, although people do end up accepting it", explained Juan Luis Santiago Melero.