ANNA ROSENBERG EXPLAINS TO THE SPANISH WINE MAKERS GATHERED TOGETHER HOW TO ENTER THE SWEDISH MARKET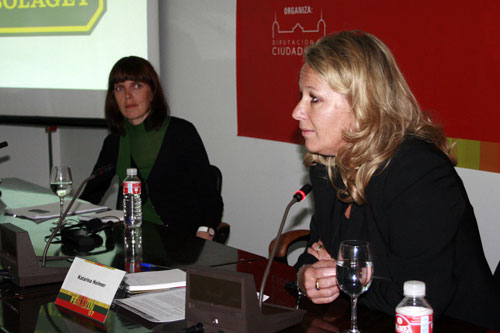 The Swedish purchaser spoke at FENAVIN 2007 about the "Systembolaget", the state owned liquor store monopoly
09.05.2007 |
This morning Anna Rosenberg, Swedish purchaser of Spanish wine, has spoken about the "Systembolaget, a 21st Century Monopoly" within the frame of FENAVIN 2007.
Systembolaget is a government owned chain of liquor stores in Sweden. Systembolaget stores are the only retail stores allowed to sell alcoholic beverages that contain more than 3.5% alcohol volume. Systembolaget counts with more than 420 stores in Sweden and the stores also sell non-alcoholic beverages. To buy alcoholic beverages at Systembolaget one has to be 20 years of age or older.
As she has highlighted during her lecture, the situation of Spanish wines has changed significantly in the last few years. Spain's position as first supplier of wines in Sweden in the year 2000, with a market share of 22% in value, has now gone to the third position with a share of 15%. Notwithstanding, in terms of volume it continues to be the first supplier country of the monopoly.
Jerez wines and white wines are suffering the most significant reductions, while red wine sales have halted their decrease. An outstanding increase is taking place in rosé wine sales, which have just been "rediscovered" by the Swedish market, in particular during the summer months. The average sale price of Spanish wines has increased in the last year.
Anna Rosenberg has underscored that France, Italy, Denmark and South Africa are Spain's main competitors in that pertaining to wine in Sweden. Notwithstanding, in the Danish case the market actually corresponds to a wine market that re-exports to other countries, amongst them Spain. This is not only the case in Denmark, given that France or Germany, for example, are also countries that package Spanish wine in "Bag-in-Box" style, and then commercialize it with the Spanish brand.
"Spain is leader in sales volume, closely followed by Italy and increasingly more by South Africa. The truth of the matter is that Spain's direct competitors are countries in the New World, and in particular South Africa", Rosenberg has said, adding that this country, with spectacular increases in sales in the last few years, has positioned itself third in off-trade sales in Sweden.
Altogether she has made it manifest that Spanish food and agriculture products count with a very sound image in Sweden and that the position of Spanish wines on this European market has been very advantageous for years now, with a high market share. "With the Bag-in-Box phenomenon in Sweden it is true that Spain has fallen behind, as this product has experienced spectacular growth in just a few years, absorbing not only the lower price segment, but even important shares in the medium price segments".
ANNA ROSENBERG
Anna Rosenberg is currently the wine purchasing representative for Spain and Germany. She started her career in a Systembolaget store, working in the same for a total of 10 years. She has worked for a long time on internal training of Systembolaget stores personnel. Last year she became the editor of Varunytt, monthly magazine published by Systembolaget. Information about new wines promoted by the company is published in this magazine. These tend to be about 80 - 100 products, which are presented with a photograph, tasting note, introduction of the producer and its origin. She has also been in charge of drafting information about wines that were included in Systembolaget's catalogue and likewise on the labels of the store shelves and in Varunytt.