THE PROMOTERS OF THE PROJECT "BETTER WITH WINE" HOLDS ITS MEETING AT FENAVIN 2007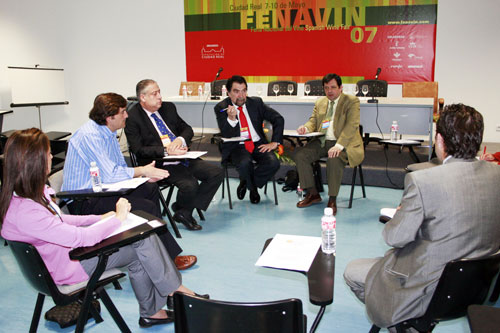 Promoted by the Provincial Corporate Association of Hotels, Restaurants and Tourism of Ciudad Real and the Association of Wine Industries, with the collaboration of the University of Castilla-La Mancha
09.05.2007 |
The Provincial Corporate Association of Restaurants and Tourism of Ciudad Real has held a general meeting on the project "Better with Wine" at FENAVIN 2007, National Trade Fair on Wine, apart from hosting an award ceremony in recognition of several Ciudad Real Restaurant owners.
The program "Better with Wine" is an initiative that saw the light more than a year ago, the same promoted by CEOE-CEPYME through the Provincial Associations of Hotel, Restaurants and Wine Industries and in collaboration with the University of Castilla-La Mancha, the same developed with the aim of increasing the prestige and image of wine throughout the Ciudad Real geography.
The project "Better with Wine" was created to favor consumption of wine and, altogether, to strengthen this sector even more. The Provincial Government of Ciudad Real, promoter of FENAVIN, supports this initiative, which consists in training instructors so that, in turn, they can train professionals whose activities are related with wine, in particular in all that concerning consumption in restaurants and hotels.
This project counts with three central themes: training, funding and equipping and diffusion. The first of the phases has now concluded, therefore, those that have been trained are ready to undertake the task of training the entire region's leading areas. Thus a training chain is started that is expected to be profitable and contribute to achieving the goal with which the "Better with Wine" project was created.
According to that commented by Teófilo Arribas, President of the Ciudad Real Hotel, and Restaurant Entrepreneurs, with this project our aspiration is to count in this province with "restaurant professionals that are qualified in the adequate selection of wines and their perfect combination with dishes".
On their part the professors of the UCLM, Soledad Pérez and Consuelo Díaz, from the Food Technology Department that is directed by María Dolores Cabezudo, explained the work they do which involves consulting, courses that promote this project, as well as proposing of ideas to improve consumption of wine amongst Castilian-Manchegos.