THE LAUREATES OF "A LIFETIME DEDICATED TO WINE" HIGHLIGHT THE EXCELLENCE OF THE FENAVIN MODEL AND CONGRATULATE DE LARA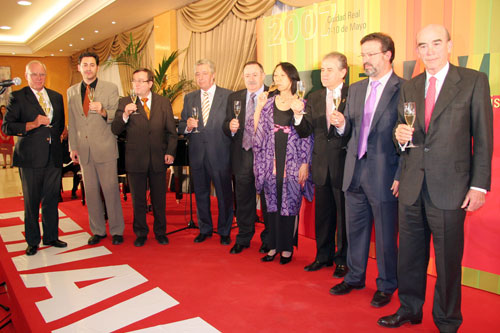 The event's organization hosted the award ceremony last evening, awards that recognize the professional career of those persons who have consecrated their life to wine
09.05.2007 |
Last evening the organization of the National Trade Fair on Wine, FENAVIN 2007, hosted its award ceremony for "A Lifetime Dedicated to Wine". This event has been an institutional recognition with the objective of valuing the professional career of persons who have dedicated their lifetime to wine. In like manner it was explained by the event's President, Nemesio de Lara, who was accompanied by the Institutional Coordinator, Ángel Amador and by Vice Presidents Ángel Cabellero, Francisco Chico and Victoria Sobrino, as well as by the Parliament Member María Fresneda.
De Lara, who was congratulated by all the laureates for the concept with which they have developed FENAVIN, last evening mentioned that all the laureates were "deserving of the award, even if some of the deserving were unable to be present. Undoubtedly there are many more people worthy of receiving an award for a lifetime dedicated to wine, anonymous people who never receive awards but who enjoy wine and even suffer wine. Thus all producers of wine deserve our applause".
"Wine is culture, history, art, business, health and food. The truth of the matter is that wine is life and we are presenting these awards to lives that have been dedicated to wine", said the likewise President of the Ciudad Real Provincial Government, prior to expressing his concern about wine and the production and elaboration sector.
"I am worried about wine, as it allows me to enjoy exquisite moments, yet it also concerns me as a citizen and as an institutional representative. And this is because according to the surveys only a fifth part of young people regularly drink wine and a third part neither drink it nor will they ever drink it because they do not understand it", said De Lara. De Lara also showed concern "for the drop in consumption of wine and about the debate on the new CMO", which is making it quite evident that the sector is not properly united, although it may be a determining factor". In this sense he made a "firm call for unity, with whoever has to give in doing so and with those having to exact and demand likewise doing so, so that in the end we can all reach a beneficial understanding".
"I am also concerned about the prices of the Spanish wine we export, because we find ourselves at the tail end of the list, behind Portugal, France and Italy, independently of leading in volume and holding the second position in export values. However, this does not mean that we have to break down and cry, quite the contrary, as we must unite around a cause on which many families and a good part of the territory depend, that is the region's economy", explained De Lara.
FENAVIN's President concluded by expressing his appreciation to all the winery owners. "Thank you because you believe in something that is part of our very essence, because many of you are champion defenders and ambassadors, not only of wine but of our land, because all of you fight for your rights when backs turn on wine and because you are all contributing to disseminating new ways of innovating, and because without even being aware of it you are helping many many families that continue to live from wine. He continued, thank you because you are all working on an objective and planned future of the sector, thank you because of your singularity as incurable romantics and altogether thank you because you believed in FENAVIN before it even started walking and because you continue to believe in FENAVIN, a creature that we are pampering as best we can. None of this would have been possible without you", he said.
FENAVIN has awarded those that have a long and productive history in the world of wine behind them. International laureates of these awards are Luis Fernando Otero, Mexican Wine Instructor, Professor and Lecturer; Maximilian Stadler, German specialist in importing of Spanish wines; Yoshiko Akehi, Japanese Journalist of Spanish wines and Allan Cheesman, Executive Director of the Board of Administration of the Wine & Spirit Trade Association.
Robert Parker has also been granted the award, as he is one of the most influential wine reviewers in the whole world, and since he was unable to personally attend the award ceremony he sent a letter of appreciation to the organization, which Ángel Amador read out loud during the event. In the letter he assures that he feels "overwhelmed, yet tremendously happy to receive this extraordinary honor" and he expresses his intention to never disappoint in the expectations that have been created".
Luis Fernando Otero received his award from FENAVIN's Institutional Coordinator, Ángel Amador. Luis Fernando is the President and Founder of the Cave Club del Vino and of the Mexican Wine Academy, as well as founder of the Unión Mexicana de Cata and he is also a Sommelier. Apart from this he is a University Professor of Enology, Enophily and Protocol; creator of the Sommelier Career; and Wine Instructor in the most prestigious of companies. "Nemesio de Lara, thank you very much for your great imagination. I have been visiting this trade fair from its very beginnings and I have seen it grow. And this year we can clearly see that this is nowhere close to being over, that it will continue on the rise", he said.
Luis Díaz Zarco, President of Caja Rural, was in charge of presenting Maximilian Stadler with the award. Stadler is an importer, distributor and agent, distributing on a national level, in particular covering the specialized trade and gastronomy. He is a specialist in the importing of Spanish wines. Amongst the products he represents can be found the Denominations of Origin Rioja, Navarra, Ribera del Duero, Somontano, Toto, Priorat, Jumilla, Yecla, La Mancha, Catalunya and Montsant. He works with some of the best-known and prestigious wineries, such as Alejandro Fernández, Bodegas Breton, Bodegas Orvalaiz, Vinícola del Priorat and Bodegas Concavins.
On her part, the Japanese Journalist Yoshiko Akehi collected the award from Ángel Amador, FENAVIN's Institutional Coordinator. She is specialized in Spanish wines and she is an investigator of fortified wines; Delegate of the Jerez Wine Committee (Regulation Council for Denominations of Origin Jerez, Manzanilla and Fedejerez) in Japan and President of Akehi S.A., company dedicated to the promotion of Spanish wines in Japan. She also coordinates the presentation of Denomination of Origin Wines of Madrid at FOODEX Japan 2007. "Thank you very much. I am very pleased with the award. It is a great honor that I would like to share with all Spaniards from the world of wine, I will continue working hard so that more wines from Spain will be present in Japan".
Allan Cheesman received the award from Felipe Torres Navarro, Director General of Food Markets of the Department of Agriculture. Cheesman is currently the Executive Director of the Board of Administration of the Wine & Spirit Trade Association, Member of the Worshipful Company of Distillers and of the Advisory Board Wine Intelligence. Allan started his professional career as a training manager in Sainsbury's Supermarkets in June of 1971. During the next 30 years Allan was promoted in Sainsbury's Management Team until he was appointed Wine Director for Sainsbury's Supermarkets. With his work at Sainsbury's Allan contributes with his personal support to the promotion of Spanish wines in the United Kingdom and he has always cooperated in the generic campaigns that have been organized for Wines from Spain.
FENAVIN's President Nemesio de Lara was in charge of presenting Rafael Torres with his award. Rafael started working at the age of 11, gradually acquiring knowledge about diverse crops and in particular about vines, to then subsequently take over his parents' vineyard estate. All grape produced at the time was elaborated in a huge winery, selling the resulting wine in bulk. He subsequently continued with his own vineyard. He is currently the President of the Castilla-La Mancha Foundation Tierra de Viñedos and since 2001 of the Viticulture Cooperative Virgen de las Viñas. "I want to congratulate the President of FENAVIN for having created the most important viticulture trade fair in Europe, which is a reason for pride for Castilian-Manchegos", he said, to then confess that he will always "remember this moment with heartfelt emotion".
FENAVIN's Advisor Rafael Díaz-Salazar was in charge of presenting José María Gandía Perales with his award. José María represents the third generation of the family that founded Bodegas Gandía, family enterprise with origins dating from the past century. After studying Commerce in Switzerland, in the year 1965 he started working in the family company. The company's most decisive achievements in the last few decades can be attributed to him, in particular when talking about positioning of Bodegas Vicent Gandía wines in 85 countries, which means that this is one of the wineries with the greatest exporting capacity to be found in Spain, and one of the leaders in sales of quality bottled wine.
Deputy Parliament Member Miguel Lacruz was in charge of presenting Antolín Huertas with his award. Antolín started working at the age of 14 in agricultural and viticulture tasks within the bosom of his family, carrying out all sorts of work related with farming and wine. In 1948 he purchased a winery in Campo de Criptana (Ciudad Real) to directly start elaborating and exporting wines. In 1983 he purchased the ancient alcohol factory José SIMO, S.A., where the current expansion of the enterprise really took off, currently rendering a production of 80,000 liters of concentrated musts and where he took over management of the company Mostos Vinos y Alcoholes S.A. until December of 2006. "I would like to congratulate all the organizers and Nemesio de Lara in particular for his dedication in body and soul to our land, land that is the cradle of the greatest vineyard in the world".
Antonio Salinas received his award directly from Nemesio de Lara. Son of a vine-grower, he studied Agricultural Technical Engineering. He has held different posts of relevance in the Regional Government of Castilla-La Mancha, the same always related with Agriculture. He is the President of the Valdepeñas Denomination of Origin Regulation Council. He is the author of diverse publications, amongst which to be highlighted are "Guía de Plagas y Enfermedades de la Vid" (Guide on Vine Plagues and Diseases), "La Vid y el Vino en Castilla-La Mancha" (The Vine and Wine in Castilla-La Mancha), "El Viñedo en Castilla-La Mancha ante el Siglo XX1" (The Vineyard in Castilla-La Mancha in view of the 21st Century), etc. He has been a Parliament Member in the Castilla-La Mancha Parliament since 1999, in which he forms part of the Agriculture Commission, defending laws such as the one pertaining to Vine and Wine of Castilla-La Mancha. "I would like to share this award with my family, as without their understanding and absolute support none of what I have done would have been possible. And also with all those that have worked to bring life to an unproductive terrain insuring that vines and wine would overflow through the veins of La Mancha's soil". This was Salinas' particular tribute to the vine-grower.
Entertainment at the event was provided by María Teresa Goméz, Soprano, Carlos Alvarez, Tenor and Abel Iturriaga, Pianist, all of whom are also Music Professors at the Madrid Superior Music Conservatory, with opera and zarzuela scores related with wine: Brindis from La Travista; Gavilanes Choir, Marina Choir, Seguidilla from Carmen or La Danza by Rossini, amongst others.