'BRANDY DE JEREZ', OBJECT OF A COMMENTED TASTING SESSION AT FENAVIN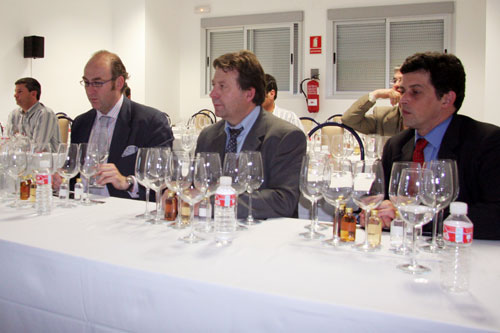 Ricardo Rebuelta, Secretary General of the Regulation Council, explained its differences with Cognac and Armagnac
08.05.2007 |
'Brandy de Jerez', alcoholic spirit distilled from fermented grape juice, which is crushed not pressed, denominated 'holandas', has been object of a commented tasting session. The event is included in the program of activities of the National Trade Fair on Wine, FENAVIN 2007, the same directed by Ricardo Rebuelta, Secretary General of the Brandy de Jerez Denomination of Origin Regulation Council.
Differences between Brandy de Jerez and Cognac and Armagnac, the other two denominations of origin that are recognized in the European Union, have been object of an exposition that Ricardo Rebuelta has delivered. Ricardo Rebuelta has also referred to the history of brandy since Arnaldo de Vilanova dating from 1240 documented knowledge of the same in a manuscript on distillation. This document contains evidence tracing back to the time of the Arabs when they distilled brandy in Jerez, and to the 18th century, when a very important distillation industry already existed in the city of Jerez found in the province of Cadiz.
Rebuelta has synthesized the Brandy de Jerez distillation process for the audience, underlining that for brandy to be considered as such its origin must correspond to the Airen grape, with characteristics that recall the raw material, that is to say the wine aged in American Oak barrel and distilled without lees (solid substances, in particular yeast remains, accumulated at the bottom of the vats after wine fermentation).
The tasting session included a sugar beet molasses distilled spirit, wine distilled spirit, wine spirit water ('holandas') and four brandies: Solera, Reserve and two Grand Reserves. "A Solera will always have sixty year old molecules", added the Secretary General of the Brandy de Jerez Denomination of Origin Regulation Council. Rebuelta annotated that 90 percent of brandies in Spain correspond to this denomination of origin, which produces 50 million bottles a year for domestic trade and 30 million for exports, distributed in countries such as Philippines, Germany, Mexico, United States, Italy, Great Britain, Nigeria, Togo, Equatorial Guinea, etc.