THE RECENT FOOD AND AGRICULTURE LAW ON QUALITY WILL PROMOTE FOOD PRODUCTS FROM CASTILLA-LA MANCHA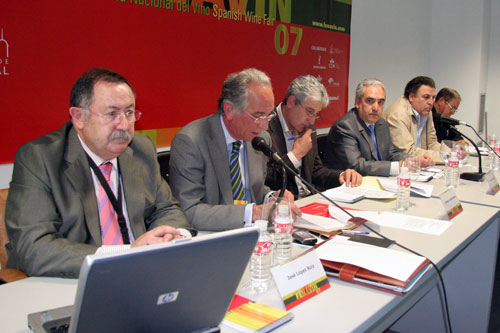 This has been made manifest at the round table held at FENAVIN 2007, during which the recent regulation has been presented
08.05.2007 |
Federico López Navarro (Director General of Food and Agriculture Markets at the Department for Agriculture) has acted as moderator. Antonio Salinas, Socialist Party Parliament Member and defender of the bill before the Regional Parliament prior to its approval, has been in charge of presenting the Castilla-La Mancha Food and Agriculture Law on Quality, which was approved on March 15 of 2007.
José López Rey (President of the Manchego Cheese Regulator Board), Juan Antonio Almansa (President of the Almagro Eggplant Protected Geographical Indication), Jesús de Juana (Technician for ASAJA) and Apolonio Moreno (President of the La Mancha Melon Protected Geographical Indication) have all participated in the round table.
The expression 'differentiated quality' is the key element in this regulatory initiative. In a globalized world, in which consumers consider quality to be of utmost importance in comparison to quantity, the need for differentiation - and protection of this differentiation against all types of interferences - is absolutely fundamental. The new law includes figures of protection that are recognized by the European Union, as well as those regulated by the national and autonomic legislations.
Thus the quality legislation for the Castilian-Manchego region has been completed, the same resting on three fundamental pillars: the Vine and Wine Law, the Organic Agriculture Quality Plan and the new Food and Agriculture Law on Quality.
The idea behind the recently approved regulation is to comply with a series of objectives: to define quality figures and avoid imitations; to regulate the framework for action of the corresponding management agencies; to insure protection of the rights and interests of agricultural producers, economic operators and sector professionals. As well as of course, the consumers themselves; to establish the obligations corresponding to the different operators and to regulate inspection; and, finally, to contribute to promotion of quality products from Castilla-La Mancha.
The food and agriculture sector is the corner stone of the region's economy. The region counts with more than 2500 companies, which invoice 900 million Euros a year and employ 25,600 persons. While rural employment is dropping in other Spanish regions, in Castilla-La Mancha it is on the increase. The new regulation provides the possibility of notably increasing the added value of regional products with differentiated quality. Marzipan, saffron, honey, garlic, peppers, mushrooms, eggplants, olive oils, Manchego lamb, cheese, wines and many other products that can be included in the Food and Agriculture Law on Quality will be protected by the Castilla-La Mancha Quality Brand.