The President of Andalusia highlights the importance of FENAVIN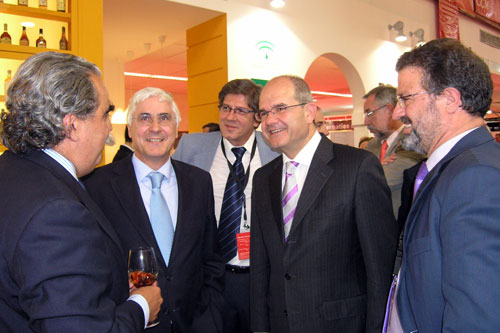 08.05.2007 |
This afternoon Manuel Chaves, President of Andalusia, has highlighted the importance of FENAVIN, the same during a visit to the National Trade Fair on Wine in the company of the President of Castilla-La Mancha, José María Barreda. Chaves has been able to personally verify that his regional community is amply represented at this monographic wine festival and he has also enjoyed the opportunity of talking and toasting with the representatives of 'Brandy de Jerez'.
The President of Andalusia has also said that FENAVIN's importance is reflected in the great number of wineries that have come together in Ciudad Real, a total of 1000, and above all in the quality that is observed as one visits the premises. "There is no doubt whatsoever that the fair reflects the power that Castilla-La Mancha has in that pertaining to wine".
He has also stressed the fact that at FENAVIN there are exhibitors from practically every single wine producing area in his region. That is to say, from Cádiz, Jerez, Montilla-Moriles, Granada and Málaga. He concluded his visit by congratulating the National Trade Fair on Wine's organization, which has been represented by Nemesio de Lara and Ángel Amador, respectively President and Institutional Coordinator of the event, and who have accompanied him throughout the visit.