Félix Solís congratulates De Lara and recognizes that when he first found out that FENAVIN was brewing he labeled him as a lunatic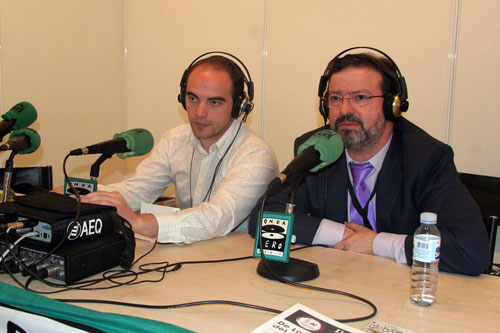 Both have been interviewed for the program "Herrera en la Onda"
08.05.2007 |
Valdepeñas winery owner Félix Solís has recognized today in the "Herrera en la Onda" program directed by Carlos Herrera for Onda Cero Radio on a national level, that eight years ago, he was one of those who labeled the Provincial President and FENAVIN's President, Nemesio de Lara, as a lunatic when in his first investiture speech he announced that he wanted to celebrate a national trade fair on wine. "Of course, now I have to eat my words, because this year FENAVIN is a trade fair at which 900 to 1000 wineries are present", Solís has said.
On his part De Lara has specified that Félix Solís was actually one of the first to believe in FENAVIN without even seeing anything, which is something to be highlighted above everything else. In answer to Carlos Herrera's questions, the Provincial Government's President has assured that the National Trade Fair on Wine is organized by and for the business, independently of the important number of cultural and technical activities that are also programmed, which of course contribute to making the event grow even more in stature. In addition, he has added that he is very satisfied with the results that the 2007 edition is already indicating.