Moderation, key word at the round table "Wine and Sports", coordinated by Juan de Dios Román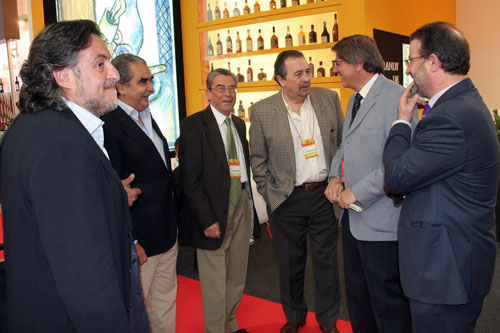 Luis Aragonés, Pepu Hernández, Sergio Sauca, Talant Dujshebaev and Miguel Ángel Bufalá have all participated
08.05.2007 |
The former Handball Coach Juan de Dios Román has been in charge of coordinating the round table "Wine and Sports", in which Luis Aragonés, National Football Coach, Pepu Hernández, National Basketball Coach, Talant Dujshebaeve, former Ciudad Real Handball Coach-Player, Sergio Sauca, Sports Journalist and Miguel Ángel Bufalá, Sports Physician have all participated. The key word at this relaxed round table has been "moderation".
Doctor Bufalá has represented the voice of health, assuring that "wine is not alcohol, it is a food product, and in fact classified as such. In addition, as a food it can logically be considered as nutrition. Wine should be enjoyed in moderation and spontaneously". He also added that "red wine is cardiohealthy, and it is also more digestive than white wine. It has been scientifically proven that wine is good for the heart and the stomach".
Juan de Dios Román, who has defined Luis Aragonés as "the smartest of the bunch when he was a player and, according to the chronicles, one of the wisest coaches to be found", asked him if the players of Spain's National Football Team drink wine. Aragonés answered that, "first of all the players are people, before they are athletes and drinking wine in moderation is anything but bad. Dieticians recommend drinking a glass of wine because it is beneficial". He also added that "if a player is used to having a glass of wine and his doctor forbids it, quite probably this will affect the player who can't drink the glass of wine more than the doctor, and certainly more than it will affect me".
WINE FAVORS FRIENDSHIPS
Luis Aragonés, who is involved with businesses related with this sector, given that he is a partner in "Cabeza de Buey, Viñedos, S.A." has said that he always has a glass of wine at lunch. I think that consuming wine and having a wine culture leads to conversations and making friends".
According to Juan de Dios Román, Sergio Sauca is "a wise man of wine" and in words of the Sports Journalist "my curiosity for wine makes me suppose that wine and sports can never be incompatible". Sauca, who defines himself as an enthusiast of wine, has stated that "the matter of moderation is as important in life as wine itself. Wine in moderation is a delight because it even favors friendships".
Sauca has also commented that there is a lack of culture about wine in Spain. "I caught the wine disease during the 98 France World Cup. Wine is part of France's culture, practically from the very moment they are born. And specifically in Bordeaux and Burgundy there is literally a family passion about it".
He has also added that two great Spanish athletes, Miguel Indurain and Martín Fiz, regularly consumed wine when they were professional athletes. Martín Fiz completed his very strict diet (lettuce, grilled steak and boiled fish) with a glass of wine at lunch and another at dinner, the same recommended by his doctor. And cyclist Miguel Indurain is a similar case, as already in his second Tour de France he was having a glass of wine with lunch and another with dinner".
Talant Dujshebaev, Ciudad Real Handball Coach-Player, has confessed that "we never have wine before a game. However, if the players do their job right and we win, then they can have a glass of wine with dinner. Since we have only lost three times, there have only been three times that they haven't enjoyed a glass of wine", he declared chuckling to himself.
Dujshebaev has told us that the Santander Team's physician, which is the team where he played when he first came to Spain "recommended that I should have a glass of red wine every night before going to sleep, because at the time I had a few minor cardiovascular problems".
Pepu Hernández has informed that "the younger players don't drink wine, but the veterans do like it. Wine is present in sports, because sports and celebration walk hand-in-hand. Successes must be toasted. It doesn't make much sense to only celebrate a victory during 20 minutes and defeats during three weeks".
He also commented that "the responsibility of a coach with young athletes is more important than our work. They are also in charge of training. Communication between players and the coach is vital. Coaches must be alerted in all senses. And forbidding is never a good idea, it is much better to inform".
The round table has been a resounding success. It counted with the presence of players from the Ciudad Real Handball team and the FENAVIN Cycling Team.